Thousands across Europe rally against EU policies (VIDEOS)
Thousands of activists took to the streets of Germany and Spain on Saturday to protest the EU's policies as the union prepares for parliamentary elections at the end of May.
In Germany, the EU's powerhouse, people participated in a day of anti-Brussels protests in Hamburg and the capital Berlin.
A rally in Berlin broke out into clashes between protesters and police. Around 1,000 people marched through the city's center to voice their anger against EU policies as part of the so-called 'Blockupy' movement. Participants also called for equal rights for refugees, including freedom of movement and residency. Police arrested at least four protesters during the rally.
Blockupy protesters also pelted Berlin's Haus der Deutschen Wirtschaft (House of the German Economy) with eggs filled with colored paint on Saturday, protesting against the European Union's "crisis management" policies, capitalism, and social injustice.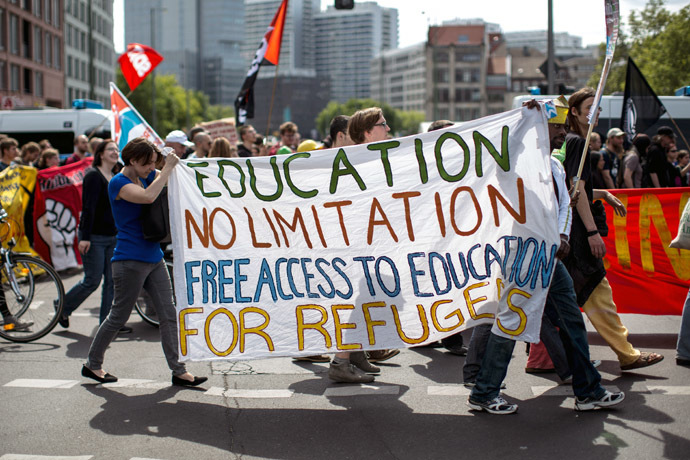 The German city of Hamburg also had its own Blockupy rally. The march turned violent when anti-EU protesters started throwing projectiles at police. Authorities responded by firing water cannons. Several people were injured in the clashes.
The protesters intentionally chose to march through Hamburg's famous HafenCity and towards Elbe Philharmonic Hall, as they believe the affluent areas convey the city's "most visible symbol ostentatious elite culture, corruption and waste in Hamburg."
The rallies are part of a larger Blockupy campaign movement which is focused against the European Central Bank (ECB) and will last from May 15-24.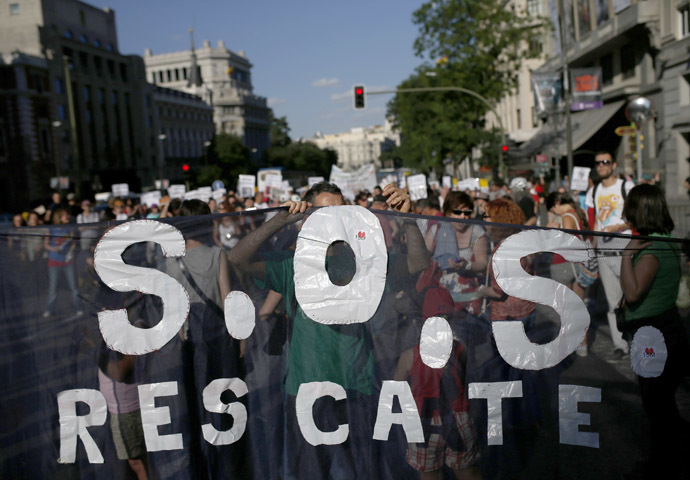 Spain, one of the worst hit countries by the economic recession, was also hit with a day of protests. On Saturday, people demonstrated on the streets of Madrid to mark the anniversary of the movement against the government's repressive economic policies, RT's Matt Trezza reported from the Spanish capital.
About 1,000 people rallied at Puerta del Sol square, protesting austerity measures and new laws restricting a woman's right to abortion and the right to protest.
The demonstration was organized by Spain's grassroots movement 'Los Indignados' (The Indignant Ones), otherwise known as the 15M Movement, which originated in Madrid's Puerta del Sol on May 15, 2011 in response to surging youth unemployment, political corruption, and austerity measures.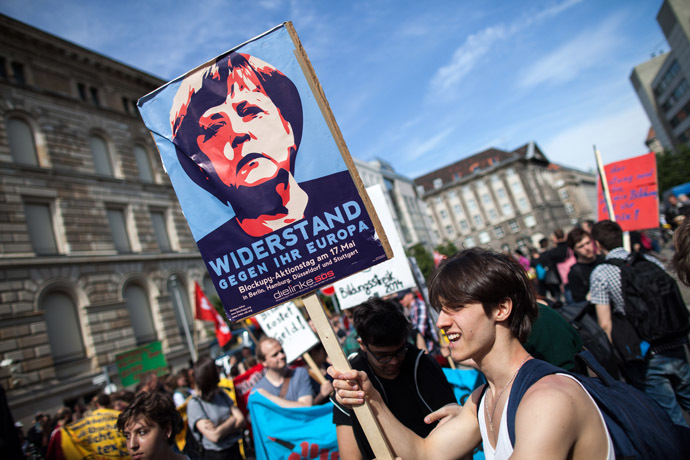 Activists held banners saying "Help poor people, not the markets."
"We have so many unemployed people now. On top of that, people are living on the streets, under bridges. And this is on the hands of those who implemented such policies. We want to see an end to the violation of our rights, such as the right to life, the right to housing, and the right to have rights," activist Gloria Vazquez told RT.
You can share this story on social media: