Beer for brooms: Germany to pay alcoholics with drink to clean streets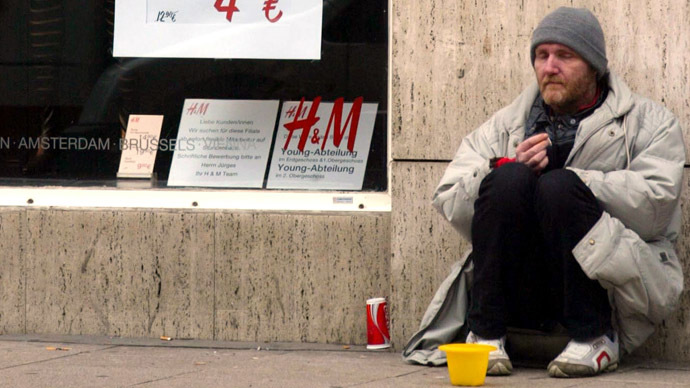 A west-German initiative will follow in the Dutch capital's footsteps by instituting a plan for unemployed alcoholics and drug addicts to receive beer in exchange for cleaning streets. The measure by a local charity has already sparked some controversy.
The so-called 'Pick-up' initiative is set to take effect mid-June in western Germany and has been concocted by the organization Addict Support Essen.
Together with alcohol, participants in the initiative will also be rewarded with food and medical treatment. Furthermore, since this fits into the 'one-euro-job' scheme set up for the homeless and unemployed in Germany, a financial reward of 1.25 euro will also be paid out, The Local found.
The job will be cleaning the streets from three to six hours a day.
"The aim of the program is not to supply people with beer," the charity said in a statement, defending the beer move as a stepping stone on the way to a properly functioning society, where every member contributes. "For the participants it is about a meaningful daily structure, feeling useful and learning a new way to behave."
Speaking to German channel ZDF, spokesman Barbel Marrziniak explained that a number of the participants in the program "simply need a bottle of beer to become fit for work… if we didn't give it to them, they would not turn up in the first place."
As the case seems to be in a few countries, there is a belief that addiction in general cannot be solved head-on, but rather – managed in one way or another, because, for some, giving up the bottle or the needle is simply not in the cards. But motivation is a different thing entirely, and can be achieved through established means and lead to a productive routine, the charity believes. And with medical help on offer as well, the benefits only grow.
"It is the same with funding for most social programs for disadvantaged and sick people in Germany… it ends up saving money in other areas."
But the backlash against the plan doesn't come from a different place. Other charities who share similar ideals would prefer to go about things differently. As Sabine Zschaler, chairman of Homeless Support Ruhr and Lower Rhine, told ZDF, "It would be nice if we could give the homeless a bit of their dignity back, when they're already at rock bottom… But that's not going to happen if we pay them with beer."
Furthermore, Zschaler believes the measure may result in the alcoholics simply showing up to do a half-hearted job with beer being dangled in front of them. But proponents of the measure counter that by adding that an educational approach to controlling and managing drinking, as well as counseling and vitamin supplements, will also be included in the 'Pick-up' program.
Finally, the Essen charity says that this is a one-year trial and the country will just have to wait and see what will come of it. "We don't yet know ourselves," Marrziniak told journalists.
A very similar program, with similar working hours and other conditions, began operating in Amsterdam last year.
For the homeless and those affected by addiction, 10 euro in cash per day, five cans of beer and some tobacco seem like a great deal for sweeping the streets from 9am to 6pm every day.
The Dutch project is operated by the charity Rainbow Foundation.
As in Germany, the Dutch also believe this is a national matter that deserves to be funded by the government. Donations are of course also accepted.