Ukraine communist leader: Kiev labeled 7 mn people 'terrorists,' slaughtered civilians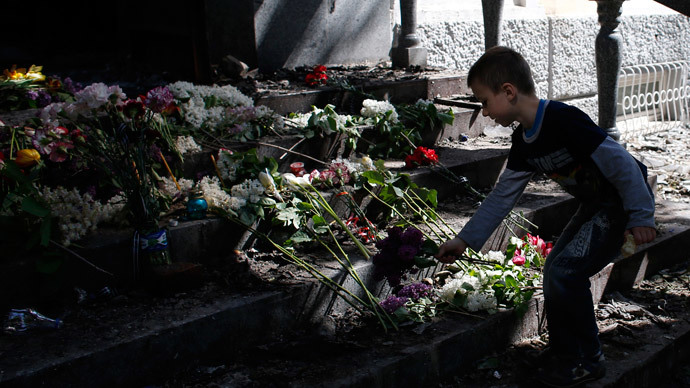 The leader of Ukraine's Communist Party says the Kiev regime killed peaceful civilians in the country's southeast, and is spreading lies about the real situation. The Ukrainian parliament is now seeking to expel communists and ban their activity.
"In Maripoul there was a slaughter of civilians, a mass murder. The number of those killed, first of all among peaceful civilians, is being concealed. A peaceful demonstration was shot at on May 9 and it was a show murder carried out by the current regime. There was a shooting of peaceful civilians, there was no one with weapons there. When you, using armored personnel carrier guns, killed a family of three, shot [them] in their kitchen, this is what you must be held accountable for; there is blood on your hands today," Communist Party leader Pyotr Simonenko said, addressing Ukraine's coup-appointed acting President Aleksandr Turchinov while speaking at parliament's conciliatory council on May 12.
Simonenko, who is a presidential candidate, was referring to the armed assault of Kiev's army on Mariupol's police headquarters on May 9, when nine people were killed and another 49 were injured, including a freelance video journalist working for RT.
"In Mariupol [you] killed and shot down police department personnel only for refusal to comply with the criminal order to disperse protesters during the May 9 demonstration," Simonenko said.
Simonenko has called on Kiev to stop its "anti-terrorist operation," saying it has now turned into a "terrorist operation against its own people."
"You declared seven million people living in the Donetsk and Lugansk regions as 'terrorists.' They went out yesterday [to vote in the referendum], stood in lines since 6 a.m. to vote against Kiev rule, against this regime, against your policy," he said.
Ending the military operation in Ukraine's southeast is "the first of what the Communist Party demands." It is also calling on Kiev to accept the results of the federalization referendum.
"Your policy resulted in Ukraine losing Crimea. Now your policy is leading to the point where seven million people of Ukraine, 30 percent of the country's GDP, reject their future with Ukraine," he stressed.
According to Simonenko, the recent events in the cities of Odessa and Mariupol show that Kiev is trying to impose a "nationalist-fascist regime."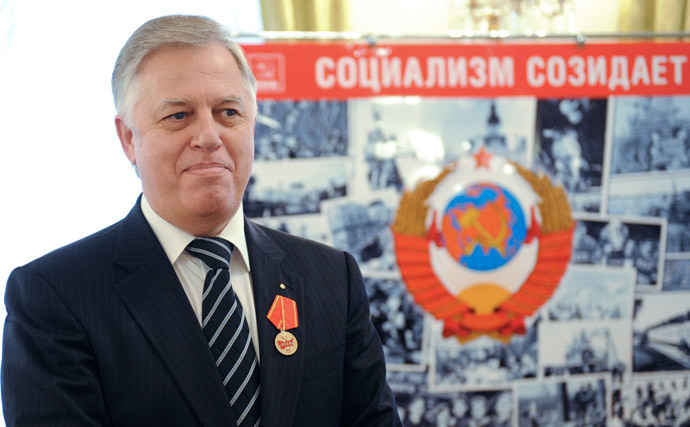 "These events show that those who had another point of view were burned in a fire of inquisition at the Odessa Trade Unions House. They were burned alive! They were utterly beaten with metal rods when they tried to leave the building or jump out of windows. They were destroyed because they, Ukrainian citizens, had a different point of view," he said.
In response to Simonenko's accusations, coup-appointed acting President Aleksandr Turchinov heckled the Communist Party leader and accused him of lies and dissemination of false information.
"You have neither conscience nor honor. Take your place, liar. I order you to stop your speech," Turchinov said, claiming the Kiev forces "protected" law enforcement in the city of Mariupol from unknown attackers who had tried to seize the police department building.
Turchinov then asked the country's Justice Ministry to look into the Communist Party's alleged separatist activities and possibly ban the group.
"I would ask the Justice Ministry to look into this issue and if there is proof, to send the material to court and ban the Communist Party in Ukraine," he said. "There is a lot of information and material in regard to the participation of the Communist Party's representatives in the organization of terrorist and separatist activities," Turchynov added.
The Communist Party says there are no legal grounds for such a measure.
The leader of the nationalist Svoboda party, presidential candidate Oleg Tyagnibok, has claimed that his party has collected documents that would allow the Justice Ministry to ban the Communist Party and the Party of Regions. The latter has also spoken against Kiev's actions in southeast Ukraine and called on officials to stop their "punitive" actions. In order to prevent Ukraine from splitting, Kiev should "sit down at a negotiation table," the Party of Regions stressed.
"To listen to you Mr. Turchinov, as you said, only 30 percent of people of Donbass voted. I want to remind you that this is 2.5 million people; they expressed their will. In any country in the world, 2.5 million people is a real power, which a government should listen to," Party of Regions representative Nikolay Levchenko said at the Ukrainian parliament, Verkhovna Rada, while calling Kiev officials "neo-Nazis" and "bandits."
Simonenko also slammed the Victory Day speech of Kherson Governor Yury Odarchenko, who stated that Hitler tried to liberate Ukraine.
"At the Victory Day celebration, he says that Hitler did the right thing when he invaded our country to 'liberate' the people of Ukraine from communists. This was said by a person who is either an idiot or a thug," Simonenko said.
Odarchenko responded by saying he will sue Simonenko.
"I am suing you for a bald-faced lie, for slander, for cowardly and shameful propaganda," Odarchenko told the Communist Party leader.
Though Odarchenko says Simonenko's accusations are a lie, the moment when he said the statement about Hitler was caught on video.
The Communist Party of Ukraine, which has been openly speaking against Kiev's coup-imposed regime since February, has faced increased confrontation since last week. On May 6, Ukrainian lawmakers accused the group of separatism and expelled it from a closed-door parliamentary hearing. It was the first time in Ukraine's post-Soviet history that such a decision had been made.
You can share this story on social media: