Alien Baptism! Pope Francis would welcome Martians to the church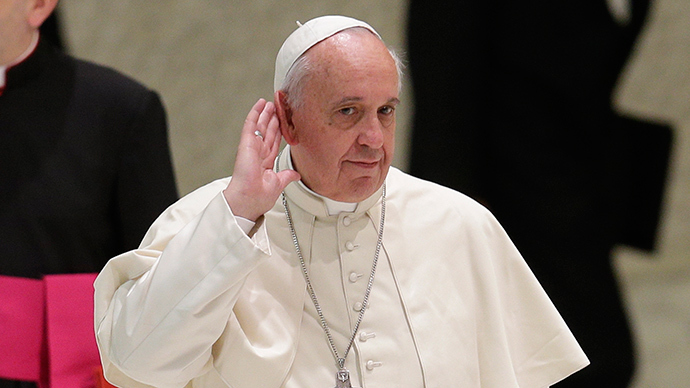 Pope Francis has stated that he would welcome alien life forms into the open arms of the Catholic Church, should they be willing to convert. He put forward his official stance on Martians - among other intergalactic travelers - at a homily on Monday.
Francis proclaimed that the Catholic Church was one of "open doors" and it was the independent choice of each Christian to accept the Holy Spirit into their lives.
"If tomorrow an expedition of aliens from Mars arrives…and one of the green ones with long nose and big ears, like those which children draw, comes and says, 'I want a Baptism!' What would happen?" Francis asked rhetorically.
The Pontiff then pointed out that St. Peter himself had assuaged doubts of his critics by stating that: "If then God gave them the same gift he gave to us for believing in the Lord Jesus, who was I to hinder God?"
According to the Bible, Peter had been criticized by Christians in Jerusalem for contacting 'unclean' Pagans. Francis used the passage to illustrate that at the time, it had also been considered 'unthinkable.'
"When the Lord shows us the way, who are we to say, 'No, Lord, it is not prudent! No, let's do it this way.' Who are we to close doors?" Francis added.
He made the comments at a Monday morning mass at the Casa Santa Maria residence at the Vatican, according to Vatican Radio.
While the statements may seem a little far-fetched, it is not the only time the Vatican has discussed the baptism of alien life forms.
At the British Science Festival in 2010, one astronomer for former Pope Benedict XVI, Guy Consolmagno, stated that he would be prepared to baptize an alien if it asked. "Any entity – no matter how many tentacles it has – has a soul," Consolmagno stated.
You can share this story on social media: