Donetsk People's Republic asks Moscow to consider its accession into Russia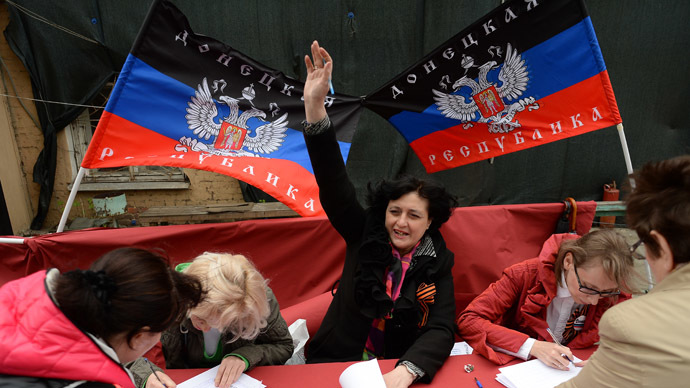 Donetsk People's Republic has proclaimed itself a sovereign state and has asked Moscow to consider its accession into Russia, the Republic's council said.
"We, the people of Donetsk, based on results of the May 11 referendum and the declaration of sovereignty of the Donetsk People's Republic, declare that from now on DPR is now a sovereign state," Republic Co-Chairman Denis Pushilin said. "Given the will of the people of the Donetsk People's Republic, and in order to restore historical justice, we ask Russia to consider the issue of our republic's accession into the Russian Federation," he added.
Earlier on Monday the results of referendums have been announced in Donetsk and Lugansk Regions, showing the majority of voters support self-rule, amid an intensified military operation by Kiev which resulted in several deaths.
Almost 90 percent of voters in Donetsk Region have endorsed political independence from Kiev, the head of the Central Election Commission of the self-proclaimed 'Donetsk People's Republic', Roman Lyagin, announced.
"Counting the ballots proved to be surprisingly easy – the number of people who said 'no' was relatively small and there appeared to be only a tiny proportion of spoiled ballots, so we managed to carry out counting quite fast. The figures are as follows: 89.07 percent voted 'for', 10.19 percent voted 'against' and 0.74 percent of ballots were rendered ineligible," Lyagin told journalists.
In Lugansk Region 96.2 percent of voters supported the region's self-rule, according to the final figures announced by the local election commission.
The Kremlin's press service has issued a statement, saying: "Moscow respects the will of the people in Donetsk and Lugansk and hopes that the practical realization of the outcome of the referendums will be carried out in a civilized manner."
It stressed the necessity of a "dialogue between representatives of Kiev, Donetsk and Lugansk."
At the same time, both the EU and US dismissed the ballots in eastern Ukraine as illegal.
In the two weeks prior to the referendum, Kiev intensified the military operation in southeastern Ukraine. May 9 became one of the bloodiest days in the weeks of the operation. It has been confirmed that nine people were killed and another 49 injured during the armed assault of Kiev's army on Mariupol's Police HQ. Driven by reports of shooting, residents, then mostly celebrating WWII Victory Day, flocked to the scene. The Kiev fighters opened fire on civilians.
You can share this story on social media: