Ukraine's new fund to pay $86,000 in damages for soldiers killed in military op
The families of soldiers who lost their lives in Kiev's "anti-terrorist operation" in the south-east of Ukraine will be compensated by 1 million hryvnas (around $86,000), pledges a charity, newly founded in Ukraine.
The initiative to create a special foundation to support the injured troops and the families of the deceased soldiers came from the Dnepropetrovsk Region's National Defense Staff as well as the Ukrainian Interior and Defense ministries.

"The families of the deceased officers from the police, the National Guard, Ukrainian Security Service (SBU), the military will receive support of 1 million hryvnas assistance before May 15, 2014," the statement by Dnepropetrovsk Region's National Defense Staff said.

According to vice-head of the Dnepropetrovsk Region, Boris Filatov, the foundation has already received the first money transfers from the local businessmen.

"Everyone who got injured, also won't be left without help. Every defender of the Fatherland must be aware that he won't be abandoned by his country," Filatov wrote on his Facebook page.

The Dnepropetrovsk Region's National Defense Staff was created by the region's Kiev-appointed governor and prominent oligarch, Igor Kolomoysky, in order to tackle the protest moods in the south-east of the country.

According to the Ukrainian media, 14 soldiers have lost their lives and another 66 received injuries since the start of the army's operation in mid-April.

The news comes as compensations to the families of anti-Kiev activists, who were burned alive by the far-right radicals in the Ukrainian city of Odessa, were announced on Tuesday.

On May 2, the far-right radicals, who faced no resistance from the police, set fire to the local House of Trade Unions in Odessa where anti-Kiev activists were hiding.
As a result, at least 46 people died inside the building as they suffocated or fell to their deaths trying to escape the blaze.
According to RBK daily, Odessa authorities will pay up to 10,000 hryvnas – around $860 – in damages per family.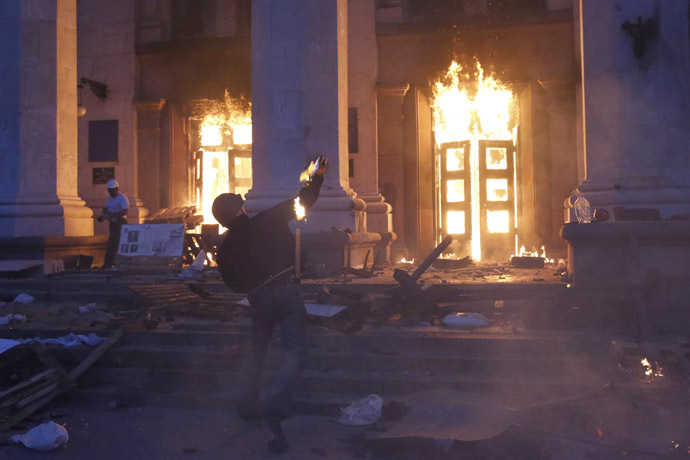 Kiev launched a military crackdown on its own citizens in mid-April after the seizure of administrative buildings by protestors in Donetsk, Lugansk and other regions.
The people in the south-east refused to recognize Ukraine's new coup-imposed authorities, demanding a referendum on greater autonomy from the capital for their regions.
You can share this story on social media: