Over 10 shot dead by Right Sector radicals near Slavyansk in eastern Ukraine - reports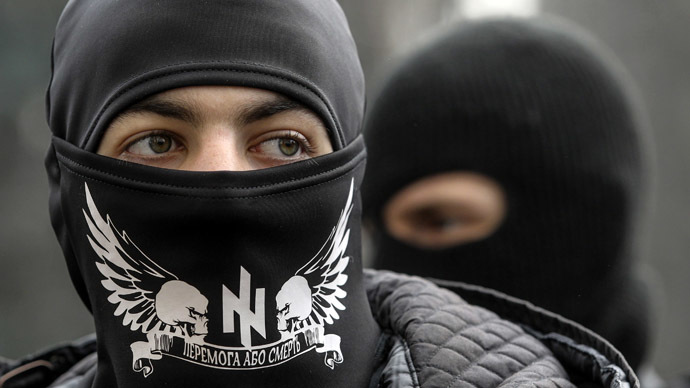 Over 10 people have died and around 40 have been injured after members of Right Sector opened fire on civilians in eastern Ukraine, the People's Mayor of Slavyansk has said.
Civilians had reportedly formed a human chain to protect their village from members of the right-wing group.
"In the village of Andreevka [suburb of Slavyansk] during the night people blocked entry to Right Sector members, forming a human chain along the road. Members of Right Sector opened fire, killing over 10 people," anti-government leader Vyacheslav Ponomarev told Russia's Interfax news agency in a telephone conversation. Ponomarev was appointed the 'People's Mayor' of Slavyansk after pro-federalization activists took control of the city on April 12.
According to the People's Mayor, members of Right Sector would not allow anyone to move the wounded and opened fire on people who tried to approach them.
RT's stringer, Graham Phillips, who is in Andreevka, said over 100 Ukrainian soldiers had set up camp in the village yesterday and had now left. He uploaded a video onto his YouTube feed showing the dead body of a man who had been shot dead by soldiers, according to local residents.
Extremely disturbing video, there is a dead body at Andriivka, witnesses say Ukr soldiers opened fire on civilians - https://t.co/AqISfYnRly

— GrahamWPhillips (@GrahamWP_UK) May 3, 2014
RT contacted Slavyansk self-defense to confirm the number of casualties. Local self-defense spokeswoman, Stella Khorosheva, claimed that 10 self-defense activists and some 30 unarmed civilians have been killed in fighting near Slavyansk.
Khorosheva described a typical attack of the Right Sector militants, saying that they are easily distinguished from the regular troops by their "black uniform and armbands." She alleged that the Right Sector specializes in fighting the civilian population who form human shields blocking the advance of Ukrainian troops.
"First they fire warning shots in the air, and then they shoot people at point-blank range… They do not let us take away the dead and injured," Khorosheva told RT.
The Ukrainian Defense Ministry claims that "two troopers" were killed last night and seven others sustained injuries. Currently, the Ukrainian army is controlling the situation in Andreevka, the ministry said in a statement.
"Following violent fighting around the village of Andreevka near Slavyansk, the situation in the area has been sealed off and is fully controlled," it reads. The ministry also said that that the military had "repelled the terrorists' attack" when they used "heavy and small arms" as well as "hand grenades."
Meanwhile, there are "active clashes" ongoing in another village not far from Slavyansk, a member of local self-defense squad told RIA Novosti on Saturday.
"Right Sector fighters and the National Guard are carrying out an attack near Druzhkovka," a man named Vladislav said. He pointed out that civilians who are at the site "are practically unarmed," and there are no checkpoints in the area.
According to Vladislav, Ukrainian troops and hardware are being deployed in the Slavyansk region, while Right Sector militants are "actively intruding" into the town, pretending to be local residents.
Over the last 24 hours there has been a dramatic escalation in violence in eastern Ukraine. Yesterday evening members of Right Sector set fire to the Trade Unions House in Odessa, killing at least 39 people and injuring a further 40, according to data from Ukraine's Emergencies Ministry.
The neo-fascist group rose to prominence during the protests that preceeded the ouster of Ukrainian President Viktor Yanukovich in a coup d'etat in February. Since then, the group has adopted an extreme, anti-Russian stance and moved its headquarters from Kiev to the eastern city of Dnepropetrovsk "to prevent the spread of the Kremlin infection."
Right Sector's head Dmity Yarosh, who has been placed on an international most wanted terrorist list by Russia, announced the creation of a new squad of fighters called "Donbass" at the end of April. According to Yarosh, the group coordinates "all of our actions with the leadership of the National Security and Defense Council of Ukraine, the Ministry of Internal Affairs and Security service of Ukraine."
Kiev's coup-appointed Interior Minister Arsen Avakov has said Donbass will be incorporated into a new structure of special divisions aimed at bring the situation in eastern Ukraine under control.
Moscow has condemned the actions of Right Sector and called on the Kiev government to disassociate itself from extremist groups.
You can share this story on social media: