Over 300 dead, 2,000 missing after landslide in Afghanistan's north-east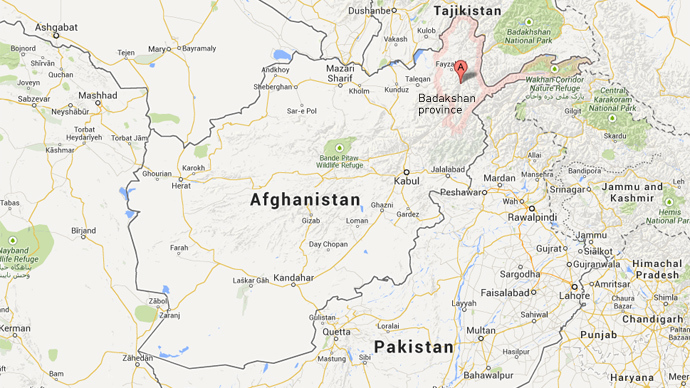 Some 2,100 people are missing and 350 are dead after a landslide triggered by heavy rains buried a village in north eastern Afghanistan, officials said. The landslide in the Badakshan province also buried some 300 homes under rocks and mud.
"There were more than 1,000 families living in that village," Naweed Forotan, a spokesman for the Badakhshan governor, told Reuters. "A total of 2,100 people, men, women and children are trapped."
So far, only eight people have been rescued, TOLOnew reports.
Rescue crews were on the scene but didn't have enough equipment and were appealing for more shovels, the province's governor, Shah Waliullah Adeeb said.
"It's physically impossible right now. We don't have enough shovels; we need more machinery," said Adeeb. He added that authorities had evacuated a nearby village in case of further landslides.
Resident trying to rescue those trapped in the landslide in northern #Badakhshan. pic.twitter.com/C2bsbPeEJJ

— TOLOnews (@TOLOnews) May 2, 2014
The landslide occurred at about 1 pm on Friday, according to Faziluddin Hayar, the police chief in the Badakshan province. Dozens of families have been displaced due to the incident.
The incident took place in the Agro district of the province in the village of Hobo Barik while people were rescuing victims caught in another earlier landslide after days of heavy rains hit the region.
The Badakshan province is located in the Hindu Kush and Pamir mountain ranges bordering China and is one of the remotest regions in a country which is notoriously difficult to get around and has a very poor road network. Although since the 2001 US led invasion it has seen few attacks from insurgents.
Heavy rains and flooding in the north and north east of Afghanistan have claimed scores of lives throughout April.
In February 2010 more than 170 people were killed in an avalanche in the 12,700 foot high Salang Pass, which links Kabul the capital with the north of the country.
You can share this story on social media: