Dutch police arrest Greenpeace activists for trying to block Russian tanker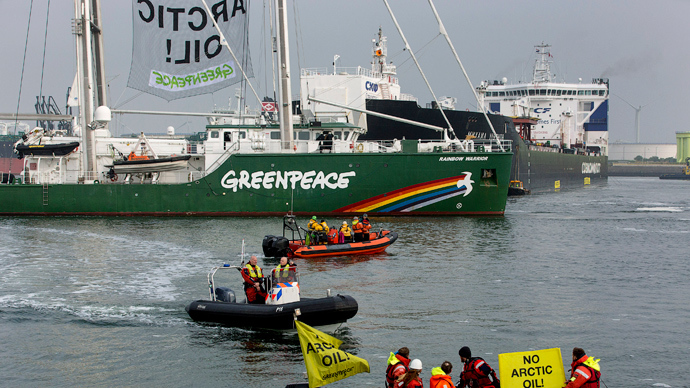 Dutch police have stormed a Greenpeace vessel and arrested around 30 activists, as they tried to stop a Russian oil tanker from docking in Rotterdam. The Mikhail Ulyanov vessel was carrying Russia's first shipment from a new Arctic drilling platform.
The environmental organization's ship, the Rainbow Warrior, included some activists, such as the boat's captain, Peter Wilcox, who were detained last year in the Arctic by Russian coastguards.
"The captain has been arrested and the ship is being taken elsewhere," police spokesman Roland Eckers told AFP of the Rainbow Warrior.
"Several activists climbed a fence to prevent the ship docking and several others were in small boats also trying to impede the tanker and several were arrested, around 30 activists," Eckers continued.
Police said they would allow Greenpeace to protest, but the group went back on their agreement not to interfere with the tanker. Eckers added that it was dangerous to try and stop a vessel as large as the Mikhail Ulyanov, which is 250 meters long, from mooring.
All of the detained activists from the Rainbow Warrior were later released, Greenpeace said.
Pete Willcox, captain of the @gp_warrior has just been released. He's catching up with fellow #Arctic30, Phil. pic.twitter.com/CXf57BBXMb

— Arctic Sunrise (@gp_sunrise) May 1, 2014
Greenpeace has been campaigning against the dangers of drilling for oil in the Arctic, with the organization's executive director, Kumi Naidoo, saying, "Arctic oil represents a dangerous new form of dependence on Russia's state-owned energy giants at the very moment when we should be breaking free of their influence."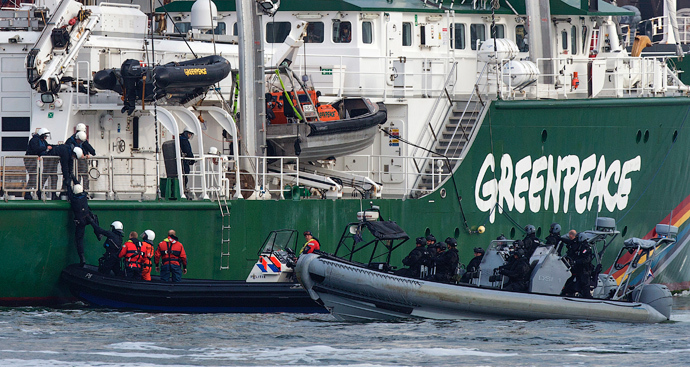 The tanker set sail initially from the port of Murmansk. It was carrying around 70 thousand tons of oil from Gazprom's Prirazlomanaya oil platform in the Arctic Sea. Greenpeace activists also boarded this platform last year.
All 30 crew members were arrested on that occasion, but Russia decided to drop all charges against them. The protesters – who were nationals of 18 different countries – were initially taken into custody on charges of piracy, which carries a sentence of up to 15 years in jail. The charges were later downgraded to hooliganism, which is subject to a potential sentence of 7 years.
Greenpeace mounted a massive international campaign to free their activists, claiming they had committed no crime and decrying the Russian authorities. Russian President Vladimir Putin said that the protesters' actions endangered the lives of those working on the rig.
"When [somebody] is climbing on the platform [they] are creating an emergency situation, [and] the operator [of the rig] could have made more than one error," said Putin in November.