Turkish police clash with May Day protesters in Istanbul
A massive police operation has cracked down on May Day protests in the Turkish city of Istanbul. Riot officers have blocked off the city's iconic Taksim Square and have deployed tear gas and water cannon against crowds of demonstrators.
Defying a ban on May Day protests, hundreds of protesters clashed with police in the Besiktas neighborhood of Istanbul. Some activists threw Molotov cocktails and fireworks at police officers, who retaliated with rubber bullets, tear gas and water cannon.
"I have already seen a few people injured," said RT correspondent Sara Firth, who was caught in tear gas and water cannon fire whilst trying to film on the streets of Istanbul. "It shows no signs of letting up at the moment."
The tear-gassing was so intense in the Besiktas district that some families were forced to evacuate their homes, reported Turkish news agency Hurriyet.
At least 142 protesters have been detained by police and 90 people, 19 of whom are police officers, have been injured during the protests, according to the Istanbul Governor's Office. The Hurriyet Daily notes that the number of injured does not include those treated outside of hospitals.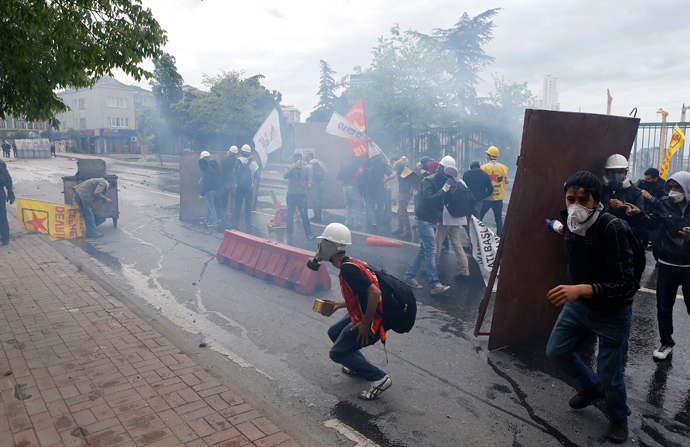 Istanbul's authorities have taken special measures to ensure protesters do not gain access to Taksim Square, which has become a symbol for the city's anti-government protest movement. Local press reports that at least 30 special operations units have been deployed around Gezi Park - adjacent to Taksim Square – as well as armored vehicles.
Protestors being detained by police after a clash as they tried to push past police line #Istanbul#May1#1mayispic.twitter.com/ZlmDmgogpp

— Sara Firth (@SaraFirth_RT) May 1, 2014
In addition, the Turkish police have also deployed specially designed, portable, steel walls for the first time. The barriers are equipped with cameras and spray tear gas automatically when they are pushed against.
Elsewhere, in the Turkish capital of Ankara, police dispersed dozens of protesters with tear gas and water cannon.
Istanbul Governor's Office warned that Taksim Square would be off limits to the public on Wednesday, citing intelligence reports that "illegal terrorist groups" had plans to attack security forces. Local media also reported that almost 40,000 police had been deployed throughout the city to prevent May Day Protests.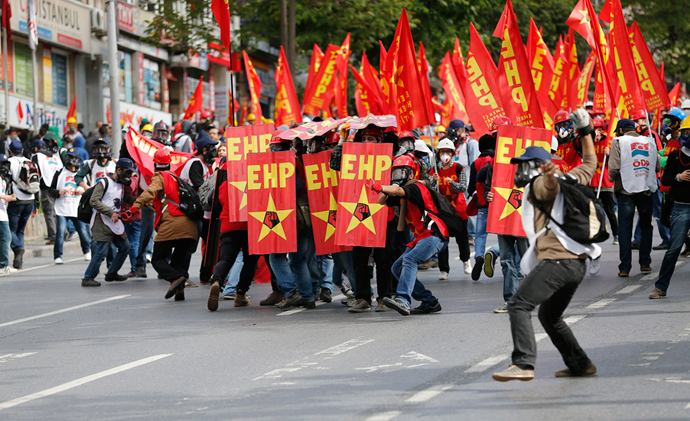 Prime Minister Taiyyip Erdogan, who has been the target of many anti-government protests, told citizens they should "give up hope" of gaining access to Taksim Square on May 1. However, Turkey's main trade unions issued a statement on Wednesday calling the ban "irrational" and "illegal" and pledged to hold demonstrations on the square.

"All roads will lead to Taksim on May Day, and our struggle for labor, equality, freedom, justice and peace will continue," the main unions said in a joint statement on Wednesday.
Many of the demonstrators took to the streets to commemorate protesters who died in last year's unrest.
Prime Minister Tayyip Erdogan has condemned the protest movement, dismissing demonstrators as "terrorists" and "riff raff." The Turkish leader has come under fire for what his opposition regard as heavy-handed measures prior to his reelection this March.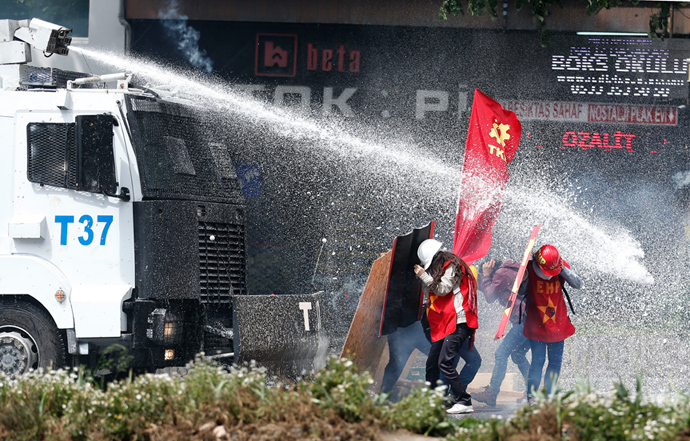 Following the dissemination of leaked conversations between government officials in social media, Erdogan ordered Twitter and YouTube to be blocked on March 21.

In the leaks, government officials discuss a possible plan for military intervention in Syria.

The Turkish government was obliged to lift a ban on Twitter on March 26 following a Constitutional Court ruling that called the site blockade unconstitutional. YouTube, however, remains blocked in the country.
You can share this story on social media: