EU states strike lucrative military contracts with China overriding embargo - report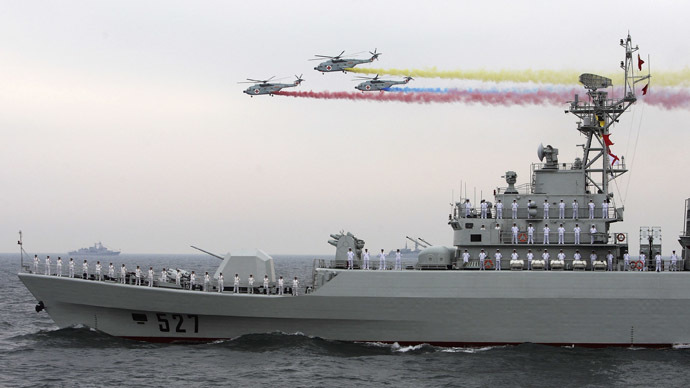 ​Europe is powering the military rise of China, approving multi-million dollar deals for the transfer of weapons and dual-use technology – despite an arms embargo stemming from the 1989 Tiananmen Square crackdown, AFP reveals.
China is the world's second largest military spender and the fastest growing military market, with Beijing setting aside $132 billion in defense spending. While they are yet to touch the US' massive $495.6 billion defense budget, China recently announced they would increase military spending by 12.2 percent for 2014.
"It will take China a long, long time before its budgets will effectively alter the military balance with the US," Jonathan Holslag of the Brussels Institute of Contemporary China Studies, recently told Stars and Stripes.
"But that's not the main concern. While the US still has some scope to respond, neighbors are getting much more nervous… Japan, Vietnam and the Philippines all know that they could be the first victim if the balance of power shifts at America's detriment."
Although Western partners in the East are skittish about China's rise, Europe seemingly cannot resist the allure of Beijing's billions.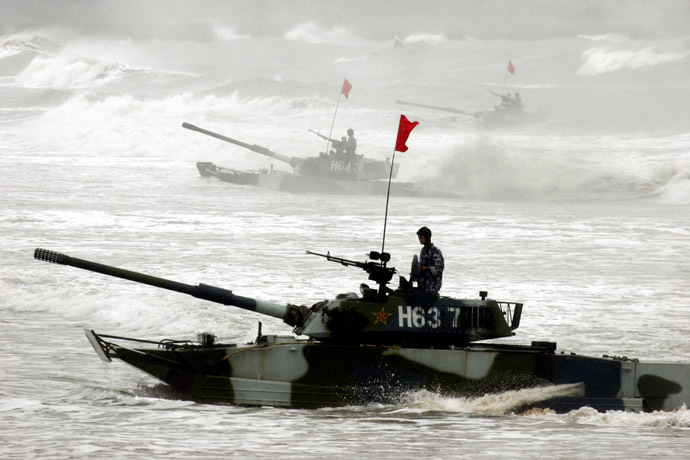 French designed helicopters bolstering China's air force, British jet engines driving fighter bombers and anti-ship strike aircraft, German and French engines providing the rudder to the Chinese navy – the role European exports play in China's military is undeniable.
"Without European technology, the Chinese navy would not be able to move," Andrei Chang, editor of the Hong Kong-based Kanwa Asian Defense Review, told AFP.
EU weapons manufactures received licenses to export equipment worth three billion euros ($4.1 billion) to China in the decade to 2012, annual EU reports on trade reveal.
The most recent document said arms exports totaling 173 million euros were given the green light in 2012, 80 percent of which were issued by France. A French parliamentary report said the country delivered arms to China worth 104 million euros.
The PLA consists of four main service branches: the Ground Force, the Navy, the Air Force and the Second Artillery Corps. The total PLA forces hovers at just under 2.3 million. Currently, the Chinese nuclear stockpile is estimated at between 50 and 75 land and sea based ICBM's. The country is believed to have approximately 9,150 tanks. They also are in possession of an estimated 4,788 armored fighting vehicles and 1,770 multiple-launch rocket systems. The country's air power consists of 2,788 aircraft, including 1,170 fighters, 885 fixed-wing attack aircraft, and 856 helicopters. China has 76 Sukhoi Su-27 air superiority fighters, another 73 Sukhoi Su-30MKK multirole fighters, and 165 domestically manufactured Shenyang J-11 air fighters. China also boasts 1 aircraft carrier, a 520 vessel strong navy including 45 frigates, 24 destroyers, 9 corvettes, and 69 submarines.
"Already, cynics claim that if the People's Liberation Army went to war tomorrow, it would employ an arsenal filled with equipment from Germany, France and Britain," Emil Kirchner, an EU policy expert at Britain's University of Essex, told said.
Are exports legal with embargo in place?
The European Union imposed an arms embargo on China following the killing of hundreds, if not thousands of protesters during the Tiananmen Square protests of 1989. Analysts, however, say EU states have free will to interpret the embargo as they choose, a reality which has generated tension with the United States.
An EU spokesman said in a statement that "the final decision to authorize or deny the (arms) export is the responsibility of EU member states."
The Stockholm International Peace Research Institute (SIPRI), which monitors arms transfers, estimates that France, Britain and Germany account for 18 percent of Chinese military imports. Russia still provides the bulk of military hardware exports to China.
At the heart of China's military modernization is its powerful new submarine fleet, which relies on state-of-the-art diesel engines designed by MTU Friedrichshafen GmbH of Friedrichshafen, Germany.
For Western states, these exports can impact the security of their allies. In January 2013, tensions nearly boiled over after a Jiangwei-class Chinese frigate locked fire-control radar on a Japanese Maritime Self-Defense destroyer and a helicopter near the disputed Senkaku/ Diaoyu Islands.
Military experts believe the ship relies on diesel engines produced by German firm MTU, AFP reports.
Another Chinese ship, a Jiangkai-class vessel, uses engines made by SEMT Pielstick, a French diesel engine manufacturer owned by German firm MAN Diesel and Turbo, according to analysts and specifications posted on Chinese military websites.
MAN told AFP that its Chinese licensees have supplied about 250 engines to China's navy. MTU said it "acts strictly according to the German export laws," without elaborating.
Meanwhile, in March Airbus Helicopters and China's Avicopter – the helicopter business unit of Aviation Industry Corporation of China (AVIC) – penned a joint agreement for the production of 1,000 new generation EC175/AC352 rotorcraft at the Elysée Palace in Paris. Chinese President Xi Jinping and French President Francois Hollande were present for the signing.
Citing the co-production deal signed in France, Chang said: "China uses the name of civil purchase to purchase French helicopter engines, and they shift those engines into military helicopters.
If (China) knows how to design the middle-sized EC175, they will know how to design a middle-sized military transport helicopter."
Meanwhile, the Netherlands is also behind 18 million euros' worth of "vessels of war" or their accessories and components, while the acquisition of a British-made Airborne Early Warning (AEW) platform for the latest Chinese surveillance aircraft has provided a boost to the People's Liberation Army Air Force.
The Chinese defense ministry has previously said reports of the People's Liberation Army dependence on foreign arms technology are exaggerated. "According to international practice, China is also engaged in communication and cooperation with some countries in the area of weaponry development," the ministry said in a statement responding to this series. "Some people have politicized China's normal commercial cooperation with foreign countries, smearing our reputation."
You can share this story on social media: