Horror show in India as debate spectator self-immolates, grabs politician
Published time: 30 Apr, 2014 10:15
Edited time: 30 Apr, 2014 10:49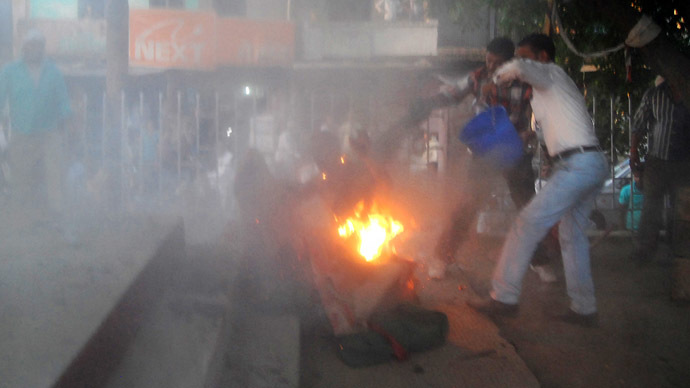 An election debate on Indian television was disrupted by a young man, who doused himself in gasoline, lit it and rushed to embrace a local politician taking part in the show. He later died in hospital, while his victim is fighting for life.
The horrific incident happened on Monday night in Sultanpur in the northern state of Uttar Pradesh, about 140km from state capital, Lucknow. The debate show was being recorded for Doordarshan TV in a park and was attended by some 150 spectators.
"This man suddenly came on the stage, poured petrol on himself and set himself on fire before tightly hugging one of the political guests," local photographer Pankaj Kumar Gupta said.
The politician victim of the bizarre attack, Kamruzzama Fauji of the Bahujan Samaj Party (BSP), suffered 75 percent burns, Indian media reported. He is in a private hospital in Lucknow in a critical condition.
The youth, who suffered even worse burns that Fauji, died in hospital hours after the self-immolation. Police identified the assailant as Durgesh Kumar Singh from Mau district, who was staying in a local hotel.
The law enforcement could not immediately give the reason for the attack. Police Inspector General for Lucknow, Subhash Chandra, said the man reportedly was mentally unstable and had frequent conflicts with his father and elder brother. He added Singh threatened to immolate himself in one of his complaints to police, but disappeared before an officer could speak to him.
Two other politicians taking part in the debate sustained minor burns as they tried to put out the fire from the attacker and his victim.
India is in the midst of a general election, with numerous local television outlets holding nightly debate shows. The election, which runs until May 12, is expected to bring BJP back to power after 10 years in opposition.
The debate show on Monday was called Janmanch 2014 (People's Forum 2014) and featured five local politicians. The fire attack happened as it was drawing to an end.