​Gunmen raid Libyan parliament, stop crucial vote on next PM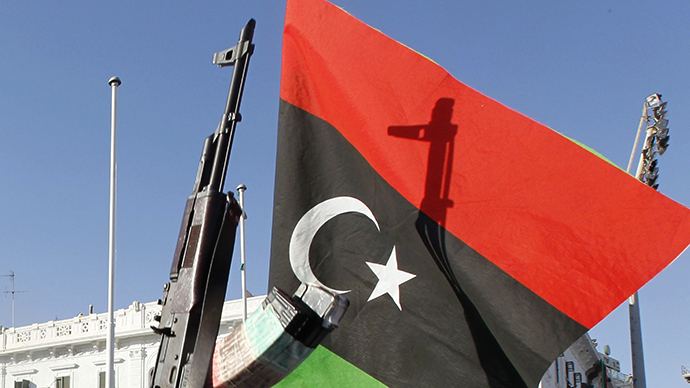 Gunmen attacked Libya's parliament on Tuesday just as lawmakers were to hold a vote on the country's next prime minister. The assailants opened fire, wounding several, according to parliament spokesman Omar Hmeidan.
Lawmakers fled the building, according to witnesses. Though the siege ended quickly, the crucial vote to replace Premier Abdullah Al-Thinni was postponed until next week.
Hmeidan said the gunmen were associated with one of the defeated prime minister candidates, though he did not name which failed candidate it was, Reuters reported.
Parliament deputies were to hold a final vote to replace Thinni before the interruption. Thinni resigned two weeks ago after he claimed gunmen had targeted his family.
Thinni was the successor to Ali Zeidan, who was tossed from office by deputies after rebels in the east had maintained a months-long blockade of oil export ports, attempting to sell oil independently.
The prior vote resulted in a win for businessman Ahmed Maiteeq over six other candidates. Maiteeq was to face runner-up Omar Al-Hasi in the second and final vote before the parliament raid.
Three years after the ouster of Muammar Gaddafi, the weak Libyan government has been unable to control rebel factions, Islamists, and territorial rivals that have refused to disarm or abandon their regional fiefdoms. Militias often attack the interim General National Congress (GNC) to make political or financial demands, according to Reuters.
The divides in the GNC assembly mirror the diversity of groups on the ground. Deadlock reigns among Islamists, tribal leaders, and nationalists, all as the struggling army attempts to maintain order against fighters, Islamic militants, and tribal groups.
Libyans, angry at the slow pace of change, pushed parliament in February to agree to early elections. Deputies had agreed to extend their terms past the February 7 mandate to allow a special committee to draft a new constitution. The move provoked protests among the population, as the citizenry largely blames congress for the lack of progress in the post-Gaddafi transition.
Meanwhile, assembly president Nouri Abu Sahmain is under investigation for a leaked video of him being questioned about a late-night visit in January by two women at his house, according to Benghazi MP Ahmed Langhi.
Abu Sahmain is a powerful army commander who disappeared from the public eye in March when the attorney general began the probe. Rumors have it that he was briefly detained by a militia to question him about the women, but he denies he was ever kidnapped.