Hundreds surround Int. Ministry HQ in Lugansk, demand police surrender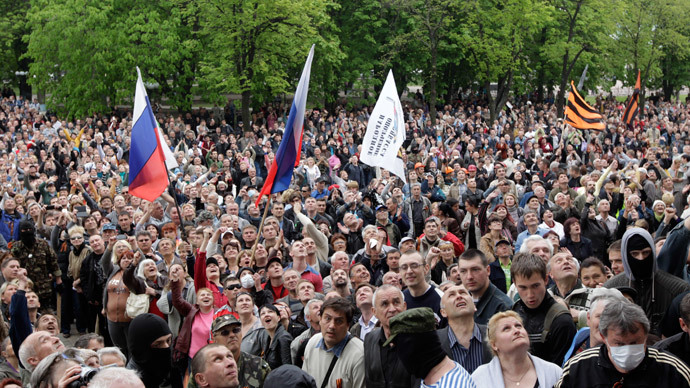 Anti-government protesters have surrounded the Interior Ministry office in Lugansk, after seizing the city's regional administration building and prosecutor's office.
#LUGANSK: Standoff & tension. Hundreds outside Int. Ministry, incl armed self-defence force http://t.co/k4seiz4578pic.twitter.com/BQvVtefTe7

— RT (@RT_com) April 29, 2014
Several hours into the gathering, a large crowd of people remains outside. According to live stream footage from the scene, the mood of the crowd is mostly joyful with people singing songs and joking. Protesters are demanding that police surrender and leave the HQ. A group of people formed a "human corridor" through which they want police to leave the building. From time to time, protesters chanted pro-Russian slogans.
For more videos and photos from the scene, follow RT's stringer Graham Phillips on Twitter.
Meanwhile, Ukraine's coup-appointed President Aleksandr Turchinov has ordered Interior Minister Arsen Avakov to sack police heads in the Lugansk and Donetsk regions in eastern Ukraine.
Earlier on Tuesday, thousands of protesters gathered in central Lugansk expecting to hear the government's response to their ultimatum issued on Sunday. The people are demanding amnesty for all political prisoners, the holding of a referendum and making Russian the second official language. In case of no reply, the protesters vowed to take further steps.
"We waited till 14:00 local time, the time we expected the reply by. No answer was received. Kiev has completely ignored our demands," local protest leader, Oleg Dereko, told RIA Novosti.
Protesters rallied towards the regional administration building when none of the officials responded.
The protesters, some of them armed with clubs and metal shields, have taken over the building and raised a Russian flag on top of it.
Demanding local government to come out to the people, the protesters moved to the prosecutor's office, where, according to media estimates, some 700 people started hurling stones, breaking windows and knocking down doors. It took them ten minutes to get inside, reports said.