Anti-Kiev protesters barricade City Hall in eastern Ukraine (PHOTOS, VIDEO)
Anti-government protesters have seized administrative buildings, including the City Hall and prosecutor's office in yet another city in Donetsk region, eastern Ukraine. Protesters announced an indefinite rally and are erecting barricades.
On Monday morning, a group of armed men wearing camouflage were reported to have taken control of a police office in the city of Konstantinovka, some 60 kilometers from Donetsk. No violence was reported during the takeover.
Local police confirmed that a group of armed men entered the building, but deny the fact that it was seized and insists that the police office is working as usual.
"Today at 06:00 am, a group of 30 unidentified armed people drove up in vans to the Konstantinovka police department and walked into the building. No weapons were used, there are no casualties," police said in a statement.
After that the men reportedly moved towards the building that hosts the City Hall and prosecutor's office, which they also took control of and hoisted the flag of the Donetsk People's Republic.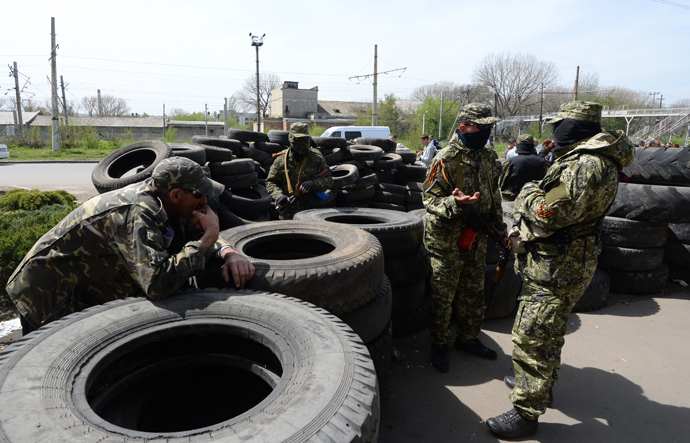 According to law enforcement, the people who took control of the buildings have held talks with the police.
Local media reported that protesters made no demands but called their actions "preparations for the referendum" that locals hope will take place on May 11.
In the meantime, anti-Kiev activists also gathered outside the City Hall. According to RT's Paula Slier working at the scene, the mood there was "jovial despite armed guns at the entrance" and the crowd was clapping welcoming the move.
Some of the protesters with St. George ribbons drove trucks with concrete blocks and a construction crane to the administrative building, preparing to fortify barricades.
Prior to that anti-government protesters blocked the entrance with sand bags and tires.
People watching the crane at work #Konstantinovkapic.twitter.com/ydUUG84qO6

— PaulaSlier_RT (@PaulaSlier_RT) April 28, 2014

RT's correspondent also saw a truck bringing a heap of sand and dumping it in front of the building.
Fortifying the barrier in front of #Konstantinovka regional govt building pic.twitter.com/3kmmpu4c6r

— PaulaSlier_RT (@PaulaSlier_RT) April 28, 2014
As the time passed, anti-government protesters still did not voice any demands. Meanwhile, local activists called for "an indefinite rally."
"Today at 17:00 local time (14:00GMT) an indefinite rally is starting in support of a May-11 referendum," one of the activists has been cited as saying by RIA Novosti news agency.
Roads around the administrative building have been blocked.
The city of Konstantinovska, with a population of 76, 000 people, is located between the region's main city of Donetsk and the city of Slavyansk, which have lately seen anti-government protests and are now a target of "anti-terrorists operation" instigated by Kiev.
You can share this story on social media: