Neo-Nazis march in Lvov 'in honor' of Ukrainian Waffen SS division (PHOTOS)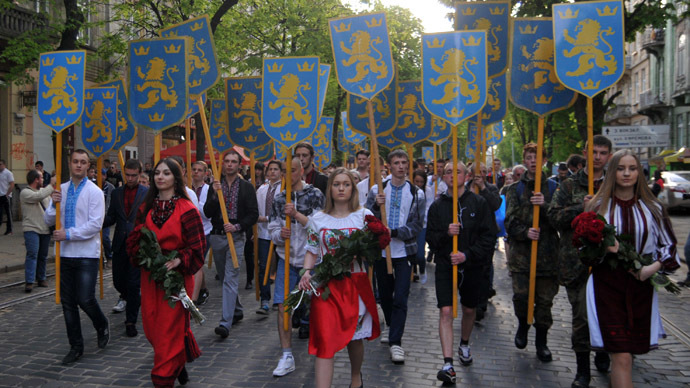 Hundreds took part in a march to mark the anniversary of the formation of the Ukrainian SS division, which fought for the Nazi's against the Soviet Union during World War II, in the city of Lvov in the western Ukraine.
Around five hundred neo-Nazi supporters took to the streets in the center of the city on Sunday to celebrate the creation of the 14th SS-Volunteer Division 'Galician' on April 28, 1943.

Many of the participants wore embroidered national Ukrainian shirts and held SS Galician divisional insignias (a yellow lion and three crowns on a blue background) in their hands.

The demonstrators made their way from the monument to the Ukrainian nationalist icon of Stepan Bandera, and to the local cemetery where a memorial to the Galician soldiers is erected.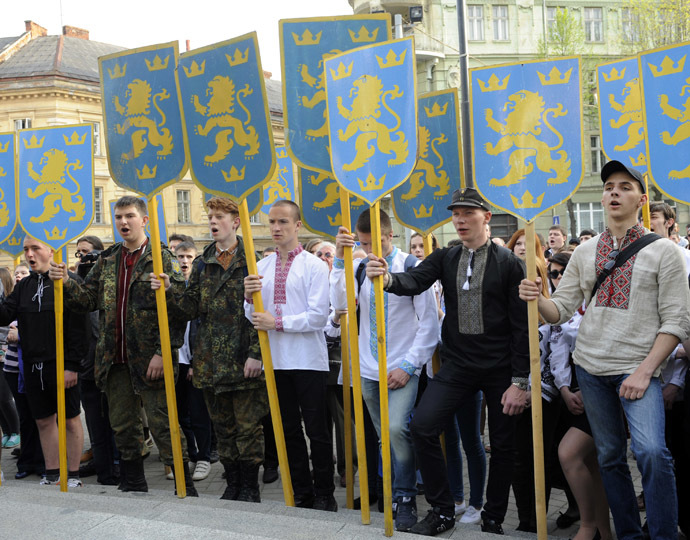 Bandera was the head of the Organization of Ukrainian Nationalists (OUN), which collaborated with Nazi Germany, and was involved in the ethnic cleansing of Poles, Jews and Russians.

The action went on despite calls from the local administration to abstain from public gatherings on the day as it "may harm the unity of the country."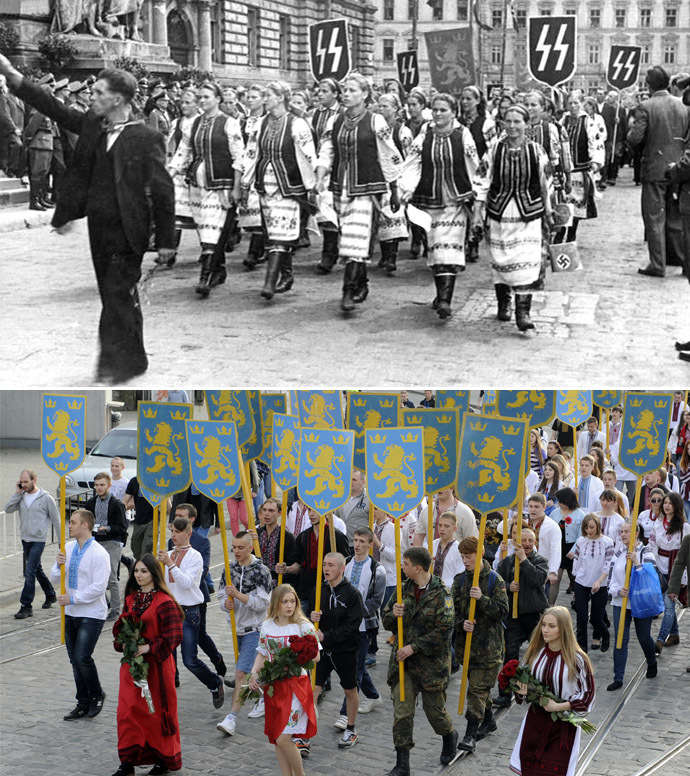 The march was staged by 'Native Land' and 'Student Brotherhood of Stepan Bandera' – radical organizations, supported by local motorcycle enthusiasts.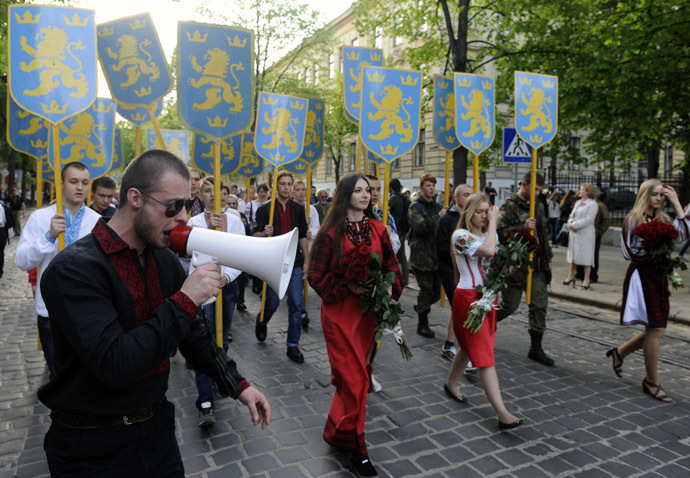 Despite the organizers promising that the rally would be a silent one, there were a lot of nationalist chants heard in Lvov.

However, slogans like – "SS Galician Division!" "People of Lvov are the strongest!""Glory to the nation – death to enemies!" and "Bandera and Shukhevich are heroes of Ukraine!" – weren't welcomed by many of the city's residents, the UNIAN news agency reports.

It resulted in the route of the march being shortened and the organizers apologizing to those who were offended by the chants.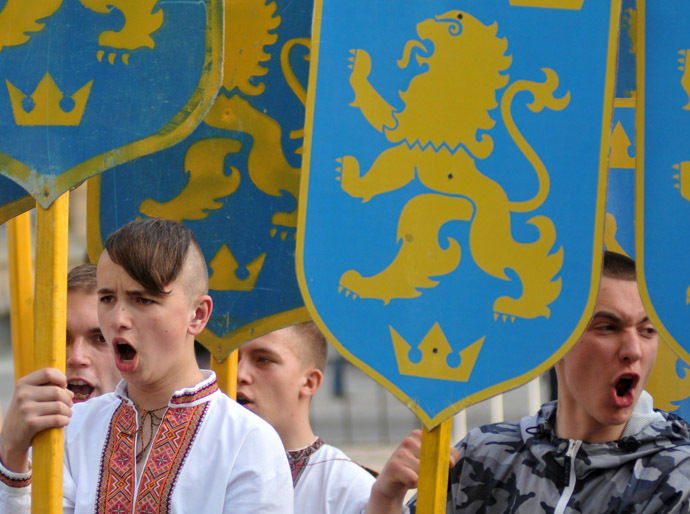 Around two hundred policemen provided security during the march, which proceeded without serious violations of public order.

None of the actual participants of the SS Galician Division were noticed taking part in the action, RIA-Novosti reports.

The Nazi occupational forces picked the SS Galician Division from volunteers in western Ukraine in order to tackle Soviet and Polish partisans.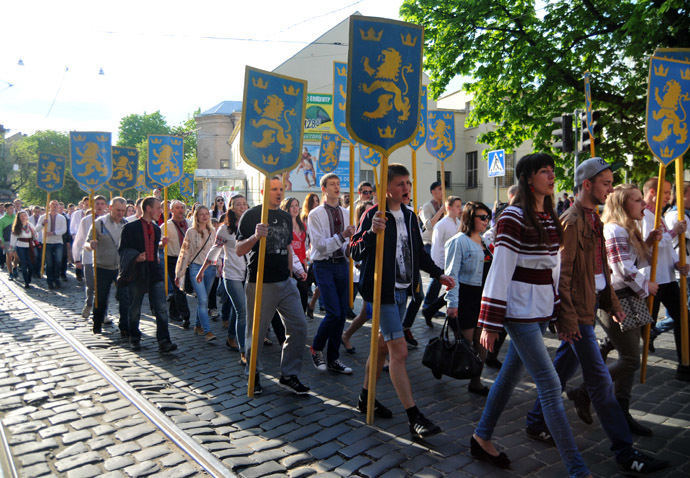 The military formation, which became well-known for its ferocity, existed for over a year before being crushed by the Red Army in July 1944.

During the Nuremberg trials, all those who were officially acknowledged as SS members were labeled war criminals, and the Nazi organization itself was banned.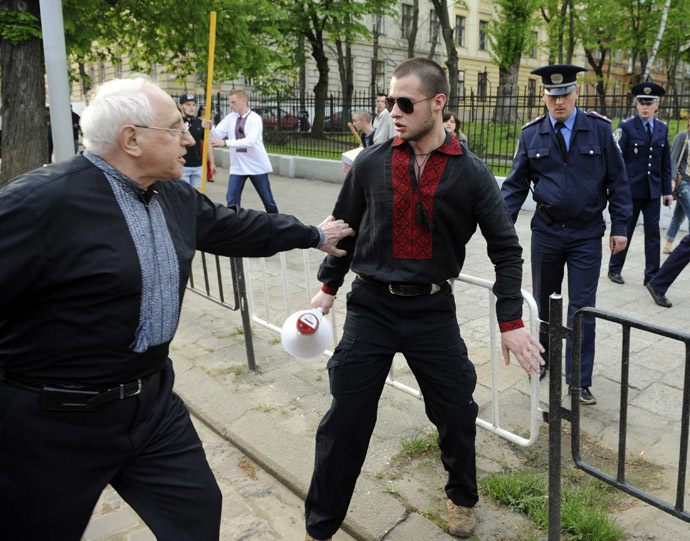 You can share this story on social media: