Mayor of Kharkov, Ukraine shot in back, hospitalized - press service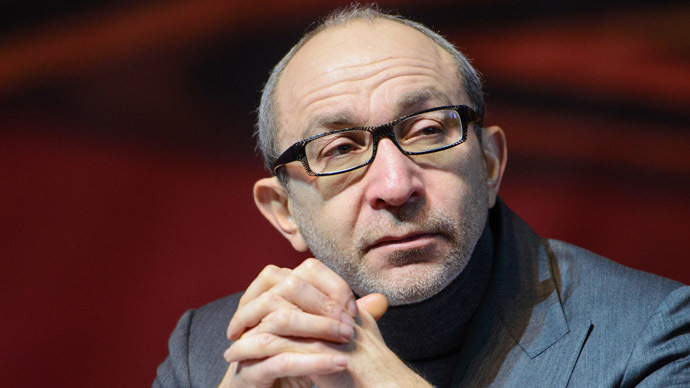 The mayor of the eastern Ukrainian city of Kharkov, Gennady Kernes, has been shot in the back, the city council's press service reports. He is currently in serious condition in one of the city's hospitals.
Kernes was shot while cycling on a road in the north of the city, Yury Sidorenko, of the mayor's press service, told RT.
"They shot him in the back from the forest," Kernes's friend Yury Sapronov said. "The injury is serious. His lung is pierced and his liver pierced all the way through."
The mayor was taken to the local hospital at about 11:30 am (8:30 GMT) local time.
Following an operation that lasted two hours, Valery Boyko, the surgeon who was treating Kernes, called his condition serious as his diaphragm had been injured. He also said that his interior organs have been damaged and he will remain in serious condition for at least several days.
Boyko said that the doctors had stopped the bleeding, but that Kernes is currently unconscious.
"The operation was performed successfully. Now we rely on God and wish strength to Gennady Kernes," he added.
Meanwhile, Sidorenko, of mayor's press service, declined to comment about who was behind the shooting. He only told RT that Kernes "has been recently receiving a lot of threats from various people."
A shell "allegedly from sniper rifle" was found at the site where the mayor was shot, Irina Kushchenko, from the public relations department of the city's Executive Committee.
Party of Regions presidential candidate Mikhail Dobkin, a close friend of Kernes, said the gunman used live fire. According to Dobkin, there was a 7.62 mm shell from a Dragunov sniper rifle.
An unexploded grenade has also been found at the scene where the mayor was shot, Mikhail Dobkin has told local media.

"At the spot where he fell, a grenade without a pin was found," he said, as cited by ITAR-TASS news agency. "By a lucky chance, it did not explode."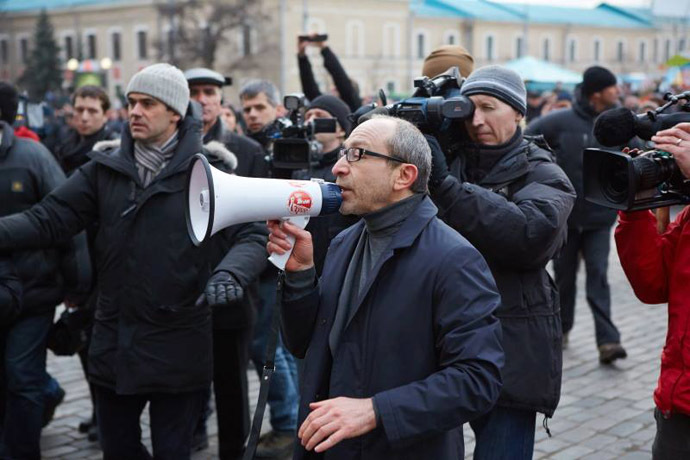 A mayor of Kharkov since March 2010, Kernes had been a strong supporter of President Viktor Yanukovich right till his ouster in February. Since then he supported the new Ukrainian authorities and kept his position.
The shooting comes a day after ultranationalists clashed with anti-government protesters in the city, leaving 14 people injured.
Meanwhile, Ukrainian presidential candidate Oleg Tsarev condemned the attack on the Kharkov mayor. He said that despite his and Kernes' political rivalry, the attack outraged him.
"Shooting at the politicians is wrong. Once again it shows that it is impossible to hold presidential elections until we reach consensus and civil peace," he added.
Kharkov mayor and Party of Regions member Gennady Kernes was born June 27, 1959, in Kharkov, then in the Ukrainian SSR. He is a lawyer and manager by profession.
A miner in the late 70s, Kernes became engaged in politics in 1998, when he ran for the Kharkov City Council.
In 2004, Kernes was an enthusiastic supporter of the Orange Revolution. Political alliances secured him the mayor's post on October 31, 2010, after Mikhail Dobkin had become head of the regional state administration. The results, which were overwhelmingly in his favor again, were controversial and came under suspicion from critics. During his tenure as mayor, he has become well known among locals for his far-reaching city reforms and his contributions to development and charitable causes.
However, Kernes's past is also entangled with Ukraine's underworld – among other things, he was allegedly the boss of his own criminal organization, which gained notoriety in the region. He was also convicted of theft and fraud.
Since the February 2014 coup in Ukraine, he has been accused of fomenting separatism. In January, he gave himself a controversial 25 percent pay rise.
Kernes was awarded many political honors in his time. He is a father of three children. His hobbies, among other things, include actively promoting and leading a healthy lifestyle.
Thousands of anti-government demonstrations have swept eastern Ukraine since March, with administration buildings being seized in several cities, including Kharkov, the largest city.
At the beginning of March some 111 people were injured in clashes between anti-government protesters and radical nationalists in the city after the radical groups then seized the administration building. Commenting on the incident, Mayor Kernes said they were ultra nationalist elements "who hid their faces behind masks and had weapons, including automatic ones," adding that "it turned out that these men came from western Ukraine – from Lvov, Ivano-Frankovsk."
You can share this story on social media: