I would 'absolutely' save Putin from drowning – President Obama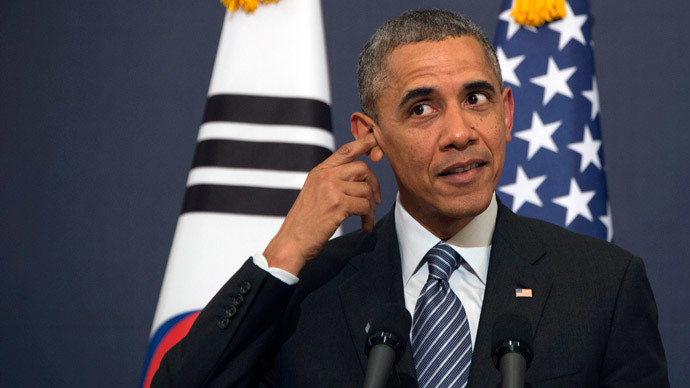 American President Barack Obama said he would "absolutely" save Russian President Vladimir Putin if he were drowning. He added that in spite of recent disagreements between Washington and Moscow, there were still areas they could cooperate.
Echoing the Russian president's answer to the same question during an extended press conference last week, Obama said he would save Putin from a watery grave.
"I'd like to think if anyone were out there drowning, I'd save them," Obama said in response to a question at a news conference in South Korea. "I used to be a pretty good swimmer, I grew up in Hawaii."
He went on to say there was still room for cooperation between Russia and the US, especially in the area of joint counterterrorism operations. However, he pointed out that "violations of sovereignty and territorial integrity in Ukraine is a principle the United States has to stand up to."
During his press conference last week, Putin said Obama would save him if he were drowning, calling him a "a decent, courageous man." He added that they did not share a close relationship.
Tensions between the US and Russia have been escalating recently over the ongoing conflict in Ukraine. The US has accused Russia of purposely destabilizing its neighbor, while Russia maintains the US is "running the show" in Ukraine.