UK police ask Muslim mothers to report on their kids going to Syria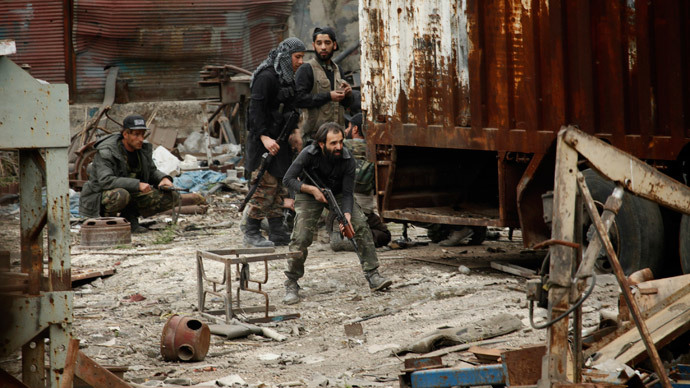 Police in Britain launched a campaign Thursday urging Muslim mothers to talk to the authorities if they think their children may be about to go and fight in Syria in an attempt to make clear that if they go to Syria they "may end up dead".
Counter terrorism officials in the UK warned Thursday that young Muslims travelling to Syria risked death, kidnapping and criminal prosecution if they get involved in terrorism.
Instead they urged people anxious to help to support reputable charities working in Syria to relieve the humanitarian crisis, but not to go there themselves.
"We are increasingly concerned about the numbers of young people who have or who are intending to travel to Syria to join the conflict. We want to ensure that people, particularly women, who are concerned about their loved ones are given enough information about what they can do to prevent this from happening," said Helen Ball, senior national coordinator for counter terrorism in the Metropolitan Police.
Hundreds of westerners mainly from EU countries have gone to the war ravaged country to join groups fighting President Bashar al-Assad over the last three years.
Some estimates put the number of Britons that have travelled there at 400 and twenty UK citizens have been killed in Syria. Britain is home to about 2.7 million Muslims.
Last week Abdullah Deghayes, a father from Brighton on the South Coast of England, revealed that one of his sons, 18 year old Abdullah Deghayes had been killed in battle earlier this month. His other son, 20 year old Amer was shot in the stomach and his third son 16 year old Jafar is still in Syria
The new British campaign has been prompted by a jump in the number of Syria-related arrests from 25 last year to 40 in the first three months of this year.
There is also the concern that on returning from Syria of young men "possibly becoming radicalized and becoming an even greater threat," said Ball.
But critics of the plan question if families would be prepared to inform on their children and even whether they'd know what their children were planning.
"All the evidence indicates that the families themselves are the last to know. They are also most unlikely to tell the police," said Keith Vaz, chairman of the parliament's home affairs committee.
Vaz also said the message needs to be pushed home amongst youngsters at a group peer level that "if they go to Syria they may end up dead."
18-year old Abdullah's aunt, Amina, said that her family had received no advance warning of his intentions and questioned if the police campaign would be effective.
"If the steps are to speak to the guys before they leave, I think people already have - they do not need the government to tell them that. In the case of my nephew, he ran away. At what point would we speak to him?" she said.
Sajda Mughal, who runs the JAN Trust, a community group and charity for ethnic minority women in Britain, was more optimistic about the campaign.
"We know that mothers are key agents of change – they are the first ones who notice any signs, any change of behavior," she said.
But some British Muslims are suspicious of the latest police initiative, even though Ball said the police would not share the concerns of anxious families with MI5.
"We view this as a duplicitous attempt by the police to exploit the natural anxiety of mothers in the Muslim community to assist them in their counter terrorism work," Asim Qureshi, Research Director at CAGE, a charity which campaigns for people detained on terrorism charges, told Reuters.
Earlier this week France unveiled new policies to stop its citizens joining the fighting, including stripping known jihadist of their passports. It is also introducing a similar campaign to Britain including a number for concerned relatives to call.