US Navy cancels charity projects in Crimea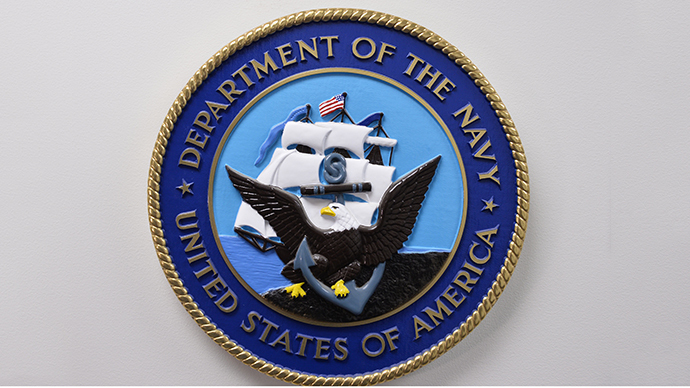 The US Navy has discontinued charity programs in Crimea, canceling the renovation of a public school and children's hospital. Russian media and bloggers suspect the programs were meant to butter up locals for a possible US settlement there.
Until quite recently the US military has been allocating American taxpayers' money to reconstruction of public offices on the Crimea Peninsula, while it was still autonomous within Ukraine.
Back in September 2013, the US Naval Facilities Engineering Command (NAVFAC) published a solicitation (drafted in June) on Federal Business Opportunities website (Solicitation Number: N33191-13-R-1240) to renovate School #5 in Sevastopol.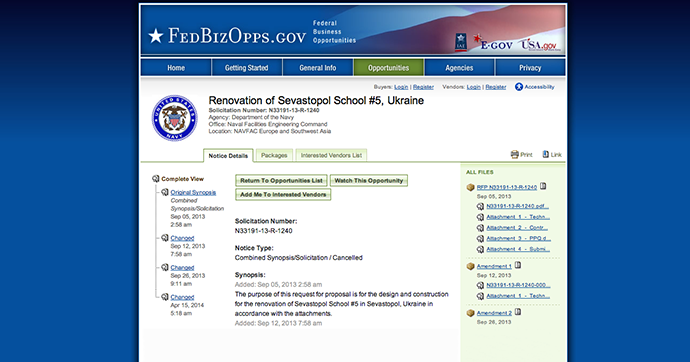 When public protests were already raging on in Ukraine's capital Kiev, on December 12, 2013, NAVFAC proposed to renovate Republican Children's Hospital in Crimea's Simferopol for an "estimated cost of construction between $250,000 and $500,000" (Solicitation Number: N33191-14-R-0601).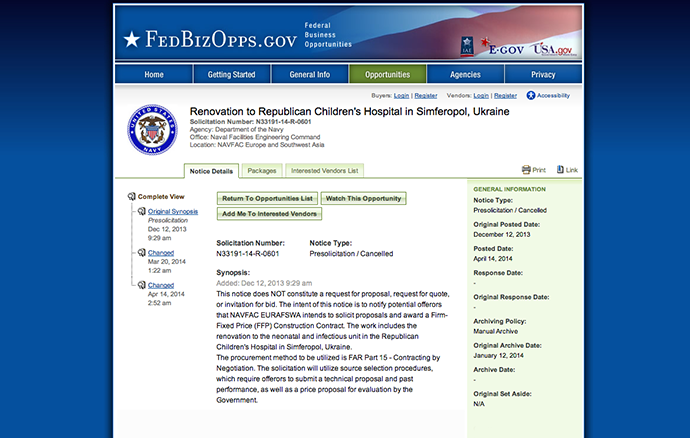 Before these two projects, the US government already paid for renovation of school #22 in Sevastopol and school #14 in Simferopol. On both buildings, commemorative plaques stating that renovation was sponsored by the US government were mounted. A similar memorial tablet was supposed to be fixed on the school #5 in Sevastopol.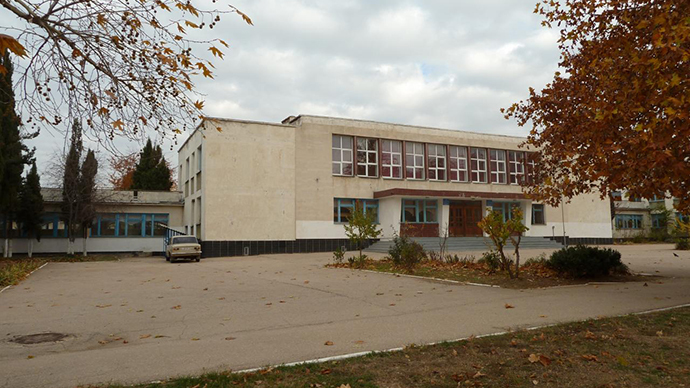 But on April 14, the Simferopol hospital project worth $500,000 was canceled "due to the ongoing situation in Ukraine." The next day the Sevastopol school renovation project was called off "due to the current climate in Ukraine."
Why NAVFAC Europe and Southwest Asia would spend the US military budget funds to renovate public installations in Crimea is an open question, yet the idea that this was made out of pure charity is doubtful.
The Voice of America website in Russian maintains that such renovation projects is a normal practice for the US military, which also has similar projects for Albania, Armenia, Bosnia and Herzegovina, Bulgaria (several kindergartens renovated in 2011), Georgia, Latvia, Macedonia, Montenegro, Romania and Serbia.
Yet practically all these countries are either NATO members (Albania, Bulgaria, Latvia, Romania), or have American military bases deployed on their territory. For example there are three American military bases in Bulgaria, one in Romania, and, reportedly, an unspecified number of American military instructors in Georgia, whereas America's Camp Bondsteel base in Kosovo is the US largest military installation in Europe and covers the territory of such countries as Albania, Macedonia, Bosnia and Herzegovina and Serbia.
The West was furious following the signing of the treaty of accession of Crimea and Sevastopol into the Russian Federation, but Russian President Vladimir Putin said that Crimea's secession from Ukraine was just like Kosovo's secession from Serbia, and any arguments otherwise are just attempts to bend the West-advocated rules that were applied to the Kosovo case.
Moscow has no doubts that Washington has been behind the power seizure in Kiev for quite some time now and continues to call on the US to prevent bloodshed in Ukraine.
A short look at history reveals that on December 4, 1994, Russia, the US and UK, with China and France adding separate statements, signed the Budapest Memorandum on Security Assurances to assure Ukraine's accession to the Treaty on the Non-Proliferation of Nuclear Weapons. Ukraine gave up the nuclear weapons it inherited from the USSR in return for non-aligned state status and guarantees of territorial integrity.
A couple of weeks ahead of the referendum in Crimea, in which an overwhelming majority of the citizens of the former Ukrainian autonomy voted in favor of reunification with Russia, Putin warned that guarantees of territorial integrity of Ukraine cannot be extrapolated on the new coup-imposed Ukrainian authorities.
If Western partners of Russia continue to insist that the developments in Ukraine is not an anti-constitutional coup but a revolution, then "I cannot but agree with some of our experts, who believe that a new state is emerging on this territory," Putin told journalists on March 4.
"And we haven't signed any legally binding documents neither with, nor in respect of this [new] state," he added.
In regard of the US military financing renovations of public installation in Crimea, Russian bloggers suspect that the US has been covertly paving ways to find a permanent lodgment in the Crimean Peninsula.
The citizens of Sevastopol never liked the presence of the US Navy in the region, but the US government opted to try its chances and invest funds of the national military budget into a country that Washington was never supposed to have military relations with. Russian bloggers argue that the US financial help to Crimea could be delivered to promote loyalty among Crimean residents.
However, the US presence in Ukraine continues, as reportedly there are eight humanitarian projects underway, mostly in western Ukraine, which largely supports the coup-imposed government in Kiev, the Voice of America reported. For example on March 5 the Federal Business Opportunities website published solicitation on renovation of the community education center in Ukraine's regional center of Vinnytsia. And again, the official contractor of this $25,000-$100,000 project is the US Naval Facilities Engineering Command in Europe and Southwest Asia.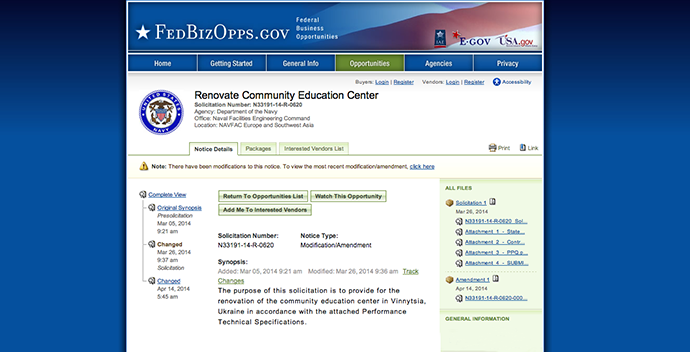 You can share this story on social media: