Russia postpones planting of GMOs by 3 years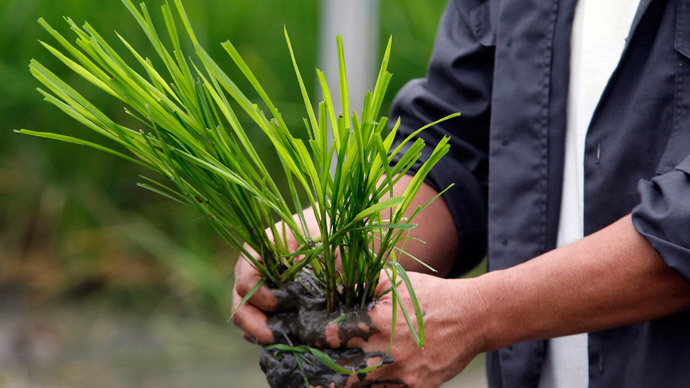 Russia will not start certifying GM seeds for at least three more years due to delays in creating the necessary infrastructure, Prime Minister Dmitry Medvedev told MPs. Earlier Russia had expected to allow planting such seeds from June.
The delay comes amid the general GMO-skeptic mood that the Russian government adopted recently. The country may even ban the cultivation and import of genetically modified foodstuffs.
Last year, the government allowed the planting of GM seeds starting July 2014 as part of Russia's accession to the World Trade Organization. Now the deadline will have to change, Medvedev told Russian MPs.
"The government decree will be amended. Not because it was wrong, but because the deadline stipulated in it was too optimistic," he said, explaining that at the moment there are not enough gene laboratories to meet the demand for certification in Russia.
"But even if the certification starts in three years or after some time, it doesn't mean that we will allow the use of genetically modified material," Medvedev said.
He added that the labs and the entire system of certification will still be needed, considering that even with strict regulation of the sale of GM seeds, some of them have found their way into Russia.
"The problem is that GM material is already everywhere," Medvedev said. "We need to know where and how it is being used. The labs' task would be to do that. That's what we are planning to invest in."
GMOs "may be an absolute evil or pose no real problem," he added. "We need to see what happens in the next few years. Russia can feed itself without any GM products."
Medvedev was reiterating his position, voiced in April, when he said that Russia will not import GMO food from other countries.
"We don't have a goal of developing GM products here or to import them. We can feed ourselves with normal, common, not genetically modified products. If the Americans like to eat such products, let them eat them. We don't need to do that; we have enough space and opportunities to produce organic food," he said at the time.
Genetically modified crops are made in the lab, usually to be resistant to certain pests and diseases or withstand pesticides. But their use remains a controversial issue, with many people concerned about the potential harm GM food may cause to human health.
There are also scientifically confirmed problems with crops diversity and emergence of pests that evolved to beat the protection that GMOs were given against them. In the longer term, planting GM seeds may prove less financially beneficial for farmers than advertised by biotech companies and may have environmental side-effects.
You can share this story on social media: