New leaks: Cuban-US organization leaders helped 'Cuban Twitter'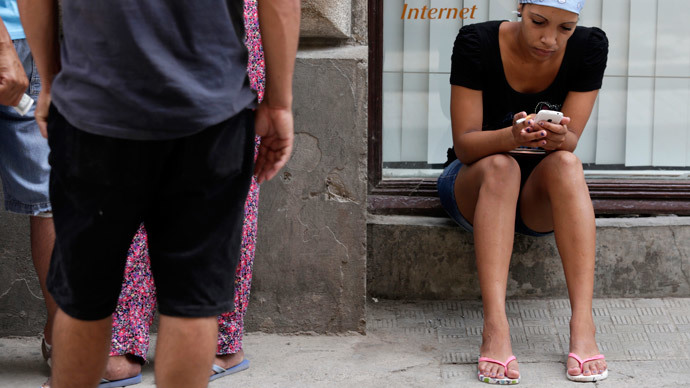 Leaders of the largest nonprofit for young Cuban-Americans, which explicitly refused to accept US government funds, in fact supported Washington's secret program aimed at toppling Cuba's government, a leaked report reveals.
Roots of Hope were approached by the program organizers in 2011 and discussed how to shift it into private hands, according to interviews and documents obtained by AP. The members were connecting with potential investors and at least two members of the boards of directors went to work as consultants for ZunZuneo program, also known as the "Cuban Twitter."
AP has disclosed several names in the leak, including Raul Moas and Chris Gueits, currently working for Mobile Accord, another project contractor working for the "Cuban Twitter." They both joined Roots' board of directors in 2011.
According to AP, Moas was involved in the ZunZuneo program for about three months. He was also responsible for reviewing some of the project's text messages in Cuba and approaching potential investors.
When asked about their involvement in the project, both Moas and Gueits refused to comment. However, he didn't include Mobile Accord on his list of interests or jobs on two professional networking sites.
According to one internal project memo, a trip by Moas and Gueits to Denver with a Mobile Accord staffer was made within the ZunZuneo project. However, a leaked e-mail copied to Moas and representatives from Creative Associates, USAID and Mobile Accord mentions problems with the ZunZuneo website and its messaging systems.
Roots of Hope was founded in 2003 at Harvard University by a group of college students.
Now the movement has a network of over 4,000 people, across the United States and abroad, with chapters in major cities such as New York, Miami, Washington DC and Madrid, Spain, aimed "to empower Cuban youth to become the authors of their own future," according to the organization's website.
Roots of Hope has also played a significant role in raising international awareness about events in Cuba.
In 2009, the organization launched the Cell Phones for Cuba campaign to empower Cuban youth, as Cuba has one of the lowest Internet penetration rates in the world.
The 2009 Peace Without Borders concert, featuring Colombian pop star Juanes, put Roots of Hope on the map for the key role the organization played in supporting the historic event. The concert attracted some 1.1 million Cubans to Cuba's capital.
In April 2014, the leaders of the group accompanied Cuban blogger and governmental critic Yoani Sanchez to Washington, where she met with US Vice President Joe Biden.
According to Chris Sabatini, senior director of policy at the Americas Society and Council of the Americas, it wasn't a surprise for him that the organization secretly helped the "Cuban Twitter" as USAID has a large sums of money available and there is a limited number of tech-savvy groups working on Cuba issues.
"I think it does risk tainting the group, a group that I think has done amazing work and changed the discussion and mobilized a new generation toward a much more pragmatic agenda," Sabatini said.
Meanwhile, Matt Herrick, a USAID spokesman, has declined to reveal any names of people employed in the scandalous project, saying that Roots of Hope did not enter into any grants or contracts related to ZunZuneo or any other programs.
"The project sought to attract private investment to support the effort after USAID funding ended, but private investment was never identified," he said.
The "Cuban Twitter" scandal broke on April 3, when AP revealed documents saying that the US engineered a text messaging network in Cuba to try and spread unrest in the communist country. More than 40,000 people, unaware that the network was created by the US government, were sharing news and opinions using the service.
According to the documents, the project of the network was financed by the US Agency for International Development (USAID), best known for overseeing billions of dollars in US humanitarian aid.
The initial plan was to gain users by allowing access to light news stories, such as baseball bulletins, music and weather updates. However, once a critical number of subscribers were reached, operators would introduce political stories aimed at tarnishing the reputation of the Cuban government, with the aim of creating a "Cuban Spring."
Meanwhile, the project involved only 1 percent of the Cuban population. By the summer of 2012 it just disappeared.
According to White House Press Secretary Jay Carney, the program was wound up in 2012; it was conducted out in the open, approved by lawmakers, and analyzed by government watchdogs.
Cuban authorities blasted the US government for the program, saying the United States was persisting in its decades-long plan to topple Cuba's communist government.
On April 10, according to AP, the US Senate Foreign Relations Committee requested that USAID hand over all of its records related to ZunZuneo after the agency's administrator, Rajiv Shah, said he didn't "specifically" know who was behind the idea of creating the project.
You can share this story on social media: