India should be thanked for Russian oil purchases – New Delhi
The South Asian nation's decision to continue trade with Moscow helped manage global inflation, its foreign minister said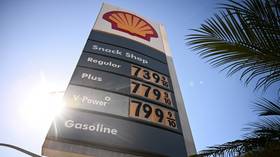 Indian Foreign Minister Subrahmanyam Jaishankar has asserted that India, the world's second-largest oil buyer following China, played a pivotal role in stabilizing global oil and gas prices by continuing trade with Russia, thereby mitigating global inflation.
Speaking at an event hosted by the High Commission of India in London earlier this week, he noted the "exceptional steadiness" of India-Russia ties while emphasizing that the East does not view Russia as a "revisionist power," unlike the West.
"So we've actually softened the oil markets and the gas markets through our purchase policies. We have, as a consequence, actually managed global inflation. I'm waiting for the thank you," Jaishankar said. He then elaborated that if New Delhi decided not to buy oil from Moscow, global oil prices would increase dramatically "because we would have gone into the same market, to the same suppliers that Europe would have done, and frankly, as we discovered, Europe would have outpriced us."
Acknowledging India's significance in the global market, the diplomat further highlighted the impact that sanctions on Russia have had on developing countries in the so-called 'Global South.' For example, he noted that LNG supplies meant for the Asian market were redirected to European countries. "In fact, India was a big enough country to command some respect in the market, but there were much smaller countries that didn't even get responses to their tender because the LNG suppliers were no longer interested in dealing with them. They have bigger fish to fry," he said.
Reiterating his recent comments on India's position on the Ukraine conflict, which he described as being based on the balance between principles and interests, he said New Delhi has "learned the hard way" that some countries "speak of principles…But they are tempered by interest."
"In this particular case, we have a very powerful interest to keep our relationship with Russia," he said.
Jaishankar's recent remarks come just weeks after he told an Indian audience at an event in Bhopal, in central India's Madhya Pradesh state, that New Delhi acted "in its best interests" when it decided to continue buying oil from Russia, arguing that it helped contain petroleum prices and keep the country's inflation under control.
India's imports of Russian oil surged by 80% year-on-year to an average of 1.56 million barrels per day in September. Imports of Russian coking coal also jumped 2.3 times year-on-year over the first eight months of 2023, reaching 4.3 million tons.
Generally, trade between Russia and India has hit an all-time high, with turnover for goods in January-August already surpassing the total for the previous year. According to data from the Indian Ministry of Commerce and Industry, total trade between the two countries in the first eight months of the year reached $43.8 billion.
Exports of Russian goods, in particular, surged to $41.2 billion compared to $17.1 billion during the same time last year, boosting Russia to the top five list of India's key trading partners in terms of goods turnover.
You can share this story on social media: