Modi unveils $2 billion for farmers ahead of elections
Opposition parties have questioned the timing of the prime minister's move, as two Indian states head to the polls on Friday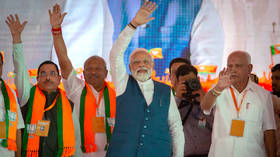 The administration of Indian Prime Minister Narendra Modi on Wednesday released the 15th tranche of funds in a welfare scheme intended to support 80 million farmers. The fresh money for the government's flagship program comes just two days before two Indian states head to the polls, in votes that are considered crucial in the run up to the 2024 general elections.
Modi made the announcement during celebrations at a tribal festival in Jharkhand state. In a symbolic move, he transferred the money digitally to the farmers' bank accounts with the click of a button.
The fresh installment, amounting to 180 billion rupees ($2.1 billion), will allow farmers to receive a payment of 6000 rupees ($72) per year in three equal installments of 2000 rupees – one every four months.
The program is considered a pet scheme of Modi's ruling Bharatiya Janata Party (BJP), and began in December 2018, according to its official website. It supports all land-holding farmers subject to certain exclusion criteria, such as higher income status.
The timing of the fresh tranche, however, has ignited controversy, as the announcement came two days before assembly elections in Madhya Pradesh and Chhattisgarh states. Opposition parties have accused the ruling BJP of violating the model code of conduct, a set of norms imposed by India's election body meant to regulate political parties and candidates prior to elections. The code of conduct comes into force when the election schedule is announced and remains in force until the results are declared.
The Congress, India's principal opposition party, has alleged that the installment was deliberately delayed to coincide with the votes. Jairam Ramesh, a senior leader of the Congress, questioned the timing on X (formerly Twitter). There was no immediate response from the BJP or the Election Commission to his post.
Elections will be held in Madhya Pradesh and in neighboring Chhattisgarh on Friday, where voting is done in two phases. The first phase was conducted on November 7. Two other large states, Rajasthan and Telangana, will also cast votes later this month. The Congress party is currently in power in Chhattisgarh and Rajasthan. The BJP governs Madhya Pradesh, while regional parties Bharat Rashtra Samithi (BRS) and Mizo National Front (MNF) are in power in Telangana and Mizoram, respectively.
Modi also announced another welfare scheme on Wednesday aimed at tribal communities, most of whom still dwell in forests. He said that 75 such groups residing in more than 22,000 villages in the country had already been identified. "Earlier governments did the work of connecting the figures, but I want to connect the lives, not the figures," the prime minister said.
Last month, the Indian leader set a target of six months for ensuring that welfare schemes are reaching the maximum number of beneficiaries. In a cabinet meeting, Modi urged ministries to work harder on outreach to people who have still not received benefits.
You can share this story on social media: