Tesla to double imports from India – minister
Commerce Minister Piyush Goyal visited the automaker's factory in California as part of New Delhi's efforts to woo the company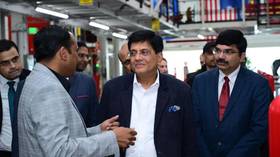 Tesla is set to increase imports of components from India, New Delhi announced on Tuesday, amid reports that the South Asian nation is seeking to encourage the automaker to establish a manufacturing plant in the country.
Indian Commerce and Industry Minister Piyush Goyal visited Tesla's factory in Fremont, California on Tuesday as part of a broader tour of the US. Following a tour of the facility, he wrote on X (formerly Twitter) that the company was "on its way to double its components imports from India."
In the same post, Goyal also said he was "delighted" to see Indian engineers and finance professionals working in senior positions and contributing to Tesla's "remarkable" journey.
In September, Goyal said the electric vehicle (EV) manufacturer was looking to source components worth around $1.9 billion from India this year, compared to $1 billion in 2022. He said the Indian government wanted more investment and a higher output of EVs in the country in the near future with a view to benefiting from "economies of scale of new technologies."
Goyal was supposed to meet Tesla CEO Elon Musk but the billionaire pulled out of the engagement because he was unwell. Responding to Goyal's post, Musk apologized for not being able to meet him in person.
Visited @Tesla's state of the art manufacturing facility at Fremont, California. Extremely delighted to see talented Indian engineers & finance professionals working at Senior positions and contributing to Tesla's remarkable journey to transform mobility. Also proud to see… pic.twitter.com/FQx1dKiDlf

— Piyush Goyal (@PiyushGoyal) November 14, 2023
Goyal's visit to the Tesla factory comes months after Indian Prime Minister Narendra Modi met Musk on the sidelines of his visit to the US. "[Modi] really cares about India as he's pushing us to make significant investments," Musk said at the time, adding that an announcement in this regard was expected soon.
Ahead of the commerce minister's visit, the Financial Times quoted a government official as saying that Tesla was seeking some customs duty concessions, at least in the interim period, before it would consider building a plant in India, and that New Delhi may be considering such concessions.
This could help other car manufacturers as well as Tesla. "We want to create a package which is good for India and which doesn't become a curated package for one company. Others are free to take advantage of this window," the official told FT.
Musk has been apprehensive about expanding in India due to high import tariffs, according to media reports. The EV giant had earlier sought a 40% import duty on fully assembled electric cars against the current rate of 60%, which is applicable on vehicles priced below $40,000, and 100% on those retailed above that.
New Delhi is reportedly looking at cutting duties to between 15% and 30%, specifically for vehicles priced between $25,000 and $35,000. According to Goyal, a new policy in this regard could be formulated after discussions with "all stakeholders."
Earlier this month, the Economic Times reported that the Indian prime minister's office had held a meeting with officials to discuss Tesla manufacturing in India, and that ministries and government departments had been asked to "iron out any differences" with the manufacturer.
Tesla, meanwhile, has already made significant inroads in neighboring China. In October alone, the US automaker delivered 72,115 China-made electric vehicles, according to the China Passenger Car Association (CPCA).
You can share this story on social media: