New Delhi and London 'reframing' ties – Indian FM
Subrahmanyam Jaishankar is in the UK for high-level talks amid concerns over a proposed free trade agreement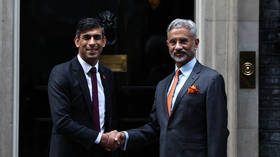 India is in the process of "reframing" its relations with the UK for "contemporary times," Foreign Minister Subrahmanyam Jaishankar announced on Sunday in a post on X (formerly Twitter). He is on a five-day visit to Britain for bilateral talks.
Jaishankar paid a visit to the home of Prime Minister Rishi Sunak and wished him well on the occasion of Diwali, an important Hindu festival and one of the biggest holidays in India. Posting to X, he said he was "delighted" to call on Sunak and also "conveyed the best wishes" of Indian Prime Minister Narendra Modi.
"India and UK are actively engaged in reframing the relationship for contemporary times," Jaishankar wrote. He also thanked the British leader and his spouse Akshata Murthy for their "warm reception and gracious hospitality" towards him and his wife Kyoko.
A day ahead of Jaishankar's visit, the Indian External Affairs Ministry said it would give "a new impetus to the friendly ties between the two countries."
However, the trip happened to occur at the same time as Sunak's move to reshuffle his cabinet. On Monday, Jaishnakar's counterpart James Cleverly was named the new UK home secretary after Conservative Party leader Suella Braverman, who has railed against unauthorized migration, was removed from the post. Former Prime Minister David Cameron has been brought into the cabinet as foreign secretary in what is seen as an unexpected move.
It also comes mere days after the UK government introduced legislation to add India to the list of "safe states," along with Georgia. If passed, the measure will allow Britain to "more swiftly remove people" from India with no right to be in the country. "To sustain legal migration we have to tackle illegal migration. And at different points in the first quarter of this year, Indians moved up to number two in terms of small boats across the [English] channel," the UK High Commissioner in India, Alex Ellis, told The Hindu, when asked to explain the move.
Preparations for Sunak's possible trip to India in the next few months are likely to figure in Jaishankar's talks in London. A visit by the prime minister would carry extra weight as New Delhi and London move ahead with plans to sign a Free Trade Agreement (FTA), which has been in the works since 2021.
It had been speculated that an agreement would be signed in October when the British leader was supposed to fly to India to attend a Cricket World Cup match. However, neither Sunak's visit nor the agreement took shape and the discussions have apparently hit a hurdle, according to the media.
London was apparently seeking "better terms" on goods and services in the trade deal, Financial Times reported. A person familiar with the matter cited "a lack of progress in opening up Indian markets to British professional services, including law and accountancy firms" as another reason for the impasse. London is also said to be pushing for tougher intellectual property protections, a move that could result in soaring pharmaceutical costs in Britain and globally.
Ahead of Jaishankar's visit to the UK, High Commissioner Ellis said that Sunak is "keen" to visit India, but the signing of the FTA remains a priority for both sides. "We are on to the big and tricky issues, and they are substantially difficult," he stated, adding that "an intense period of negotiations" is underway.
The media has also speculated that the Indian foreign minister could bring up the presence of pro-Khalistan activists in the UK, a subject that has emerged as an irritant in India-UK ties in recent months. It follows a diplomatic spat between India and Canada over Prime Minister Justin Trudeau's allegation of New Delhi's "potential involvement" in the murder of a pro-Khalistan activist on Canadian soil. As India has continued to flag the issue, the UK government in August announced an outlay of £95,000 ($116,349) to enhance its "understanding of the threat posed by pro-Khalistan extremism and complement work being done by the India-UK joint extremism task force."
You can share this story on social media: