Canada withdraws 41 diplomats from India amid deepening spat
The move comes after New Delhi told Ottawa it will remove diplomatic immunity by October 20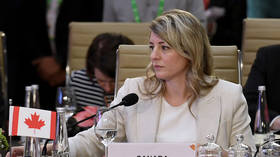 Canada has on Thursday confirmed that it is withdrawing 41 diplomats posted in India at the latter's behest amid a deepening diplomatic row between the two countries over the killing of a Sikh separatist leader designated as a terrorist by India on Canadian soil.
According to an official statement, Ottawa was formally informed by New Delhi about its plans to remove immunities unilaterally for "all but 21 Canadian diplomats" by October 20. Following the move, Canada facilitated the departure of 41 diplomats and their families from India, "given the security implications of India's actions."
Calling the action taken by India "completely unreasonable and escalatory," Canada's Foreign Minister Melanie Joly stated that the "unilateral revocation of diplomatic privileges and immunities is contrary to international law" and is a "clear violation of the Vienna Convention on Diplomatic Relations."
"Diplomatic immunities should be respected and cannot be unilaterally revoked by a host country. If we allow this norm to be broken, no diplomat anywhere would be safe. For this reason, we will not reciprocate," Joly said at a news conference in Ottawa.
India's Ministry of External Affairs reacted to the statement on Friday, rejecting "any attempt to portray the implementation of parity as a violation of international norms." "The state of our bilateral relations, the much higher number of Canadian diplomats in India, and their continued interference in our internal affairs warrant a parity in mutual diplomatic presence in New Delhi and Ottawa. We have been engaged with the Canadian side on this over the last month in order to work out the details and modalities of its implementation," the ministry said.
The development comes in the wake of Canada's Prime Minister Justin Trudeau linking the killing of Hardeep Singh Nijjar, a separatist leader designated as a "terrorist" by India, to "agents of the Indian government." Nijjar was gunned down by unidentified gunmen outside a Sikh temple in Vancouver on June 18. India dismissed the allegation as "absurd" and both countries expelled a diplomat each.
Ottawa's Thursday statement noted that the "mass expulsion" will impact the operations of the Canadian mission. "India's decision will impact levels of services to citizens of both countries," the statement asserted. All in-person services in Canadian consulates in Chandigarh, Mumbai and Bengaluru will be temporarily suspended.
Following the withdrawal of the diplomats, the country would slash the number of embassy staff dealing with immigration, Canada's Immigration Minister Marc Miller said. Since visa application centers in India are operated by third-party contractors, they would not be affected, Miller noted. However, the reduction in staff is anticipated to create a backlog of roughly 17,500 applications, Canadian officials added, which they hope to clear by early 2024, according to Canadian media. Around 2 million Canadians, or 5% of the overall population, have Indian ancestry. Additionally, Indians make up about 40% of all international students in Canada.
India has earlier claimed that the number of Canadian diplomats posted in India is significantly higher than the Indian presence in Canada and that it was looking for parity in terms of the diplomats' strength. According to the Indian Foreign Ministry, Canada's "continued interference" in India's internal affairs justifies its call for parity. India suspended its visa services to Canadian citizens in the early days of the diplomatic crisis, citing "security threats" to its staff at its consulates in Canada.
In its statement, Ottawa said it will continue its "legitimate investigation" into Nijjar's killing, adding that "India's decision" will not act as a "distraction." "Canada's priorities in this matter continue to be the pursuit of the truth, the protection of Canadians, and the defense of our sovereignty," read the government's statement. Despite making allegations against India in public, Trudeau's government has not provided any evidence to back up its claims.
You can share this story on social media: