Dozens of troops missing after natural disaster hits Indian state (VIDEO)
A cloud burst over Lhonak lake in the northeastern state of Sikkim has led to massive flooding and fatalities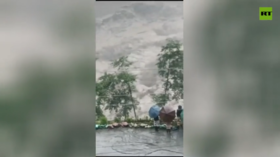 Severe flooding killed at least five people and endangered the lives of hundreds in Sikkim, a state in India's northeast, on Wednesday morning.
At least 23 Indian army personnel have gone missing, army establishments along the valley have been affected, and many military vehicles are reported by officials to be "submerged under the slush."
"Disaster struck around 1:30am when a glacial lake outburst, which is a type of outburst flood caused by the failure of a dam containing a glacial lake, caused the levels of the Teesta River here to rise dramatically," Bikash Basnet, press secretary to Sikkim's chief minister, told RT.
"In the aftermath, the Teesta River's basin was swollen up; the water level of the river rose 15-20 feet. The disaster has caused extensive damage in several districts in Sikkim, including Mangan, Gangtok, and Pakyong." The spokesperson added that most of the casualties have been reported in Singtam town, which lies mostly in Gangtok district and partly in Pakyong.
According to officials, the situation was compounded by the release of water from the Chungthang dam in the vicinity that led to a sudden increase in water levels downstream. The Chungthang, which is the biggest hydropower project in Sikkim, has been "completely damaged," said Basnet.
According to him, the state government's "quick response" and "quick alert mechanism" have been instrumental in rescuing over 400 people so far (170 people in Mangan district and 280 people in Gangtok). Army, state police, and disaster management personnel have been pressed into service to rescue the affected persons who are being put up at makeshift camps until further arrangements can be made.
Sikkim Flash Floods: Panic in Singtam as Teesta Rises Locals run for cover as the situation remains grim hours after a cloudburst over Lhonak Lake - coupled with the release of dam water nearby - led to flooding along the Teesta River.15k+ people are affected with 8 major… pic.twitter.com/gwLioKkWhx

— RT_India (@RT_India_news) October 4, 2023
However, intense rain across several affected areas has severely impeded rescue operations as key bridges and roads have been swept away by flash floods, badly hampering transport across the state. National Highway 10, which connects Sikkim to other Indian states, has also been "cut off." When asked about the extent of the damage, Basnet said it was too early to determine how many people have been affected.
Earlier, Sikkim Chief Minister Prem Singh Tamang traveled to affected areas in the Singtam district to "assess damage" and "engage with the local community." Writing on X (formerly Twitter), Tamang urged people to "remain vigilant and refrain from unnecessary travel during this critical time."
Indian Prime Minister Narendra Modi has spoken to Tamang "to take stock of the situation," according to his post on X. "Assured all possible support in addressing the challenge. I pray for the safety and well-being of all those affected," Modi added in his post.
According to EastMojo news outlet, in light of the emergency, all government schools and private schools in Gangtok, Pakyong, Namchi, and Mangan districts will remain closed until October 8.
You can share this story on social media: