Why Trudeau values his extremist allies over India's goodwill
Canada, with US support, provides cover for Sikh separatists while launching unfounded accusations at New Delhi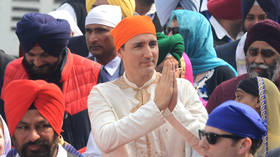 Canadian Prime Minister Justin Trudeau delivered a grave blow to his country's ties with India last week by stating on the floor of his parliament that there were "credible allegations" that the murder of Hardeep Singh Nijjar, a local Sikh extremist, had "potential links" with India. He had raised the matter with Prime Minister Narendra Modi, he said, during the September 9-10 G20 summit in "no uncertain terms," language that borders on diplomatic effrontery.
"Credible allegations" do not constitute evidence, and the connection with India being "potential" is an acknowledgment that no definitive conclusions have been reached, as the investigation is not complete. To recklessly accuse a friendly government of complicity on such shaky grounds indicates some political compulsion and personality flaws.
Canadian opposition leader Pierre Poilievre has demanded that Trudeau produce evidence to substantiate his charge. Even in a private briefing to him, Poilievre said, Trudeau did not go beyond what he stated in parliament. He acknowledged to the media that if Trudeau's charges were proven wrong, it would be risky for Canada.
While Trudeau claims that he had sent his national security adviser to India to discuss the issue, the Indian External Affairs Ministry spokesperson has categorically affirmed that Canada shared no specific information then or later.
India's External Affairs Minister Jaishankar, in an interaction with the Council of Foreign Affairs in New York, reiterated that Canada had shared no specific or relevant information with India to substantiate its charges, but that if it did, India would look into it. It was not the government of India's policy to undertake the kind of actions imputed to it by the Canadians, he affirmed.
The US ambassador to Canada has told media that the claim of an Indian connection to the murder is based on intelligence provided by a Five Eyes country, presumably the US, or possibly Britain. This seems like a convenient ploy to make an allegation – it conveys that the accuser has something in their possession to back it up, but also implies that it's intelligence-derived information that cannot be made public, so as not to disclose sources or capabilities. In any case, intelligence can be manipulated to suit a larger political agenda (the US war on Iraq is a glaring example).
India has reacted unusually sharply to Trudeau's allegations. While refuting them as absurd and politically motivated, the spokesperson of India's External Affairs Ministry recalled that Prime Minister Modi completely rejected similar allegations that Trudeau had made to him. Such unsubstantiated claims, he said, sought to shift the focus from Sikh terrorists and extremists who have been given shelter in Canada, and who continue to threaten India's sovereignty and territorial integrity. The Canadian government was reminded that its inaction on this matter has been a long-standing concern of India, as was the openly expressed sympathy for such elements by Canadian political figures. The spokesperson deplored the space given in Canada to a range of illegal activities including murders, human trafficking and organised crime, and warned Canada that it was not New Delhi's reputation that was at stake, but Ottawa's.
India also made the point that a score of extradition requests made by it are pending with the Canadian side. With the kind of political clout that the Sikh extremists wield within the Canadian system, it is unlikely that the Canadian government would act on India's extradition requests, however much the Canadians may talk of their independent justice system, or deport those with established terrorism links. According to Indian agencies, nine separatist organisations supporting terror groups are based in Canada.
Canada has precipitately expelled a senior Indian diplomat without concluding its investigation, and India has retaliated by expelling a senior Canadian diplomat. To a travel advisory issued by Canada, India responded with a much stronger travel advisory. Canada has been asked to reduce the size of its mission in India, on the grounds that its diplomats interfere in India's internal affairs. India has also stopped issuing visas to Canadians for the time being.
What are Trudeau's political compulsions? In the 2021 election, his Liberal Party failed to obtain a majority. For the minority government to survive, it needs the support of the National Democratic Party led by a Canadian Sikh, Jagmeet Singh, which has 25 seats in parliament. While Jagmeet Singh's links to Sikh extremists advocating secessionism in India and the establishment of an independent Sikh state of "Khalistan" in India's Punjab province are strongly suspected, the size of the Sikh diaspora in Canada – over 700,000 strong, making it the largest Sikh population outside Punjab – makes the Sikh vote important in Canadian politics. It is crucial in about 15 constituencies of Canada.
Jagmeet Singh's clout within Canadian politics derives from this reality. Trudeau has therefore cultivated the Sikh diaspora unabashedly, to the point that his 2018 visit to India was a political disaster, as the impression he gave was that the purpose of his visit was more to endear himself to the Sikh public in Punjab, to consolidate his political position back home, than to hold serious talks with the Indian government. It is for this reason that Trudeau sympathised with prolonged farmers agitation in 2020-2021 (with money also coming from the Sikh diaspora), with its distinct anti-Modi, anti-BJP fervour. This interference by Canada in India's internal affairs makes a travesty of Trudeau's accusation that India is interfering in Canada's.
During his India visit, the chief minister of Punjab begrudgingly met Trudeau and gave him a list of Sikh extremists harboured by Canada, which included Hardeep Singh Nijjar, against whom there was an Interpol Red Corner Notice and who had fled to Canada under a false name, failed twice to obtain Canadian citizenship as he was trying to manipulate the system, and eventually seems to have received it. The chief minister of Punjab had separately refused to meet Trudeau's then defence minister on the grounds that he was a supporter of "Khalistan". Canada should explain how a criminal with an Interpol Red Notice against him acquired Canadian nationality, and what it says about the rule of law in Canada. It now transpires that Nijjar, according to his son's statements to the media, had been meeting with Canadian intelligence once or twice a week for the last several months, which suggests he was linked to the CSIS.
Trudeau's personality traits explain his irresponsible and cynical behaviour. He is determined to retain power. Belonging to a privileged political family (his father Pierre Trudeau was prime minister and he too sheltered Sikh extremists), he seems to have a sense of entitlement. He wants India to account of its conduct, cooperate with Canada in investigating the murder of Hardeep Singh Nijjar, a fugitive from Indian law, without any obligation on his part to cooperate with India to curb the activities of Sikh extremists in Canada.
These extremists openly call for the balkanisation of India, organise referendums for creating an independent Sikh state in Punjab, attack our missions in Canada, print posters with photographs of the heads of our missions in Canada, and call for their death, glorify in a tableau the killing of India's former Prime Minister Indira Gandhi by her Sikh bodyguards, and vandalise Hindu temples. The latest being a threat by a Sikh extremist leader with double US and Canadian citizenship demanding that Hindus leave Canada.
All this is acceptable to Trudeau with his minority-oriented woke beliefs, and to the Canadian establishment at large, as part of freedom of speech and right to protest in a liberal democracy based on the rule of law. Trudeau has the arrogance and temerity to say that there must be a change in the way the government of India and its intelligence agencies function.
In this episode, the role of the Anglosphere and the "Five Eyes" is noteworthy and needs to be factored into Indian diplomacy. The US has backed, even encouraged, Canada in pursuing its allegations against India. Both US National Security Advisor Jack Sullivan and Secretary of State Antony Blinken have called on India to cooperate with Canada and have said that there must be accountability, with Sullivan saying tactlessly that no country has any special exemption for such acts, and Blinken saying that there are certain principles that the US will insist on upholding.
While one can understand the US political compulsion to support a faithful and dutiful ally like Canada, even as the US seeks to deepen its ties with India, implicitly suggesting that India is answerable to Canada and not once alluding to the need for Canada to cooperate with India to meet Indian concerns, will not go unnoticed in New Delhi. As for US principles conflicting with targeted killings on foreign soil, the names of Osama bin Laden, Ayman al Zawahiri, General Soleimani, Mullahs Fazlullah and Mansoor come to mind. Trudeau himself had lauded the killing of Ayman al Zawahiri in a tweet at that time. Double standards, as usual.
The standing ovation given to the former Nazi collaborator Yaroslav Hunka in the Canadian parliament, including by Trudeau, who according to Pierre Poilievre, the opposition leader, Trudeau also met privately, raises a lot of questions about the dark underside of Canadian politics and society. Trudeau's and Canada's cultivated image of a liberal democracy espousing Western values of human rights and rule of law require that, in the interest of transparency, Canada reveals how many ex-Nazis were given refuge in Canada and take national stock of why Canada has become a safe haven for Sikh terrorists, criminals, drug dealers and human traffickers.
The statements, views and opinions expressed in this column are solely those of the author and do not necessarily represent those of RT.
You can share this story on social media: