India-Canada diplomatic row: Trudeau should 'tone it down,' talk to Modi, experts say
Canada's domestic politics could have played an important role in the standoff with India over Khalistan activism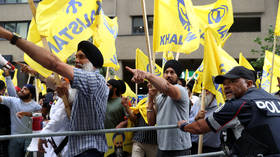 Canadian Prime Minister Justin Trudeau could have taken more effective steps to show New Delhi that his government is serious on the Khalistan issue, which India has for a long time seen as a major concern and which poses a threat to Canadian society. That's the opinion of experts who spoke to RT after the Canadian government linked India to the death of pro-Khalistan leader Hardeep Singh Nijjar and expelled a senior diplomat from the country.
Former diplomat and political analyst Anil Trigunayat, who served in the Indian Missions in Cote d'Ivoire, Bangladesh, Mongolia, the US, Russia, Sweden, Nigeria, Libya, and Jordan, believes Trudeau's government is seeking to attract the sizeable Sikh constituency in Canada to its voter base.
"I think this is a misplaced priority on his [Trudeau's] part, because it is going to have an impact within Canada itself because terrorists do not belong to any country," he added.
Trigunayat stressed that the Trudeau government made the allegations against India without providing any evidence. "They are only the potential link, and everything is a theory," he said, adding that, as a result, the relationship has suffered significantly and is unlikely to improve "unless the Canadian government genuinely addresses the issue of terrorism, separatism, and extremism against India."
Trudeau could have done "a much better job" of addressing India's concerns regarding pro-Khalistan elements on its soil, Robinder Sachdev, a political analyst, agreed. Speaking on an RT panel, he said Trudeau's move was not surprising, as Canadian officials previously alleged that India and China have meddled in its internal affairs.
During the G20 summit, the Canadian prime minister had some frosty encounters with his Indian counterpart, Narendra Modi. New Delhi threatened to back out of trade talks until the Khalistan issue was addressed. Meanwhile, Trudeau complained to Modi about India's alleged interference in Canada's internal affairs.
Sachdev said Trudeau's statements were a "step in retaliation" against India, publicly stating it would freeze the free trade agreement talks over the Khalistan issue. He added, however, that Canada reaching out to the US, UK, and other countries over its "concerns" about India was unexpected and goes far beyond bilateral matters.
"It looks like the spiral is downwards… Given the negative baggage that Trudeau has built up with India, I think for the next two years the relations between the two nations will remain icy," he said.
Senior journalist and editor Ajit Kumar Jha said Trudeau is under immense pressure from his political ally, Jagmeet Singh.
Singh, who is the leader of the New Democratic Party (NDP), gave a message in Punjabi following Trudeau's allegations in parliament and has promised to hold the Indian prime minister accountable for the killing of Hardeep Singh Nijjar.
Pointing out that Singh was one of the leading candidates for prime minister in the last election, Jha suggested that the Trudeau government would fall without the support of the NDP. Lamenting the "total decline" in the relationship between the two countries, Singh stressed the need for the governments to come to an understanding.
Speaking in an interview with RT, Amarjit Singh Dulat, the former chief of India's external intelligence agency, the Research & Analysis Wing, dismissed Canada's accusations that New Delhi was involved in the assassination of a Sikh separatist leader. Unlike its neighbor, Pakistan, India is a "liberal democracy" and "does not believe in assassinations on foreign soil to quell separatist movements," he said.
His views echoed the Indian Ministry of External Affairs' response to the allegations, which rejected them as "absurd."
The former spymaster questioned Canada's "credible allegations" as well as the timing. He attributed Trudeau's pledge "to hold the perpetrators of this murder to account" as a likely sign of "his domestic political compulsions."
"Usually, these issues are sorted out at bilateral levels without much fuss," Dulat stated, pointing out that Trudeau held talks with his Indian counterpart, Narendra Modi, on the sidelines of the recently concluded G20 summit. "It is surprising that he chose to go back home and make a big deal out of it."
Dulat claimed that the demand for a separate Khalistan state – to be carved out of the northern Indian state of Punjab and ruled by minority Sikhs who account for less than 2% of India's population of over 1.4 billion – is "long dead."
"However, Nijjar's killing and the ongoing diplomatic standoff between India and Canada will definitely stir things up in Punjab, as a section of opportunist sympathizers, including Pakistan, are likely to cash in on the sentiments," he added.
Nijjar, who was shot dead outside a Sikh temple in June, was designated as a terrorist by India in July 2020. Trudeau, speaking in the Canadian parliament on Monday, described what he called credible allegations that India was connected to Nijjar's assassination.
Canada expelled an Indian official, Pavan Kumar Rai, the head of the Research and Analysis Wing. In a retaliatory move, the Indian Foreign Ministry on Tuesday summoned the Canadian high commissioner and informed him about New Delhi's decision to expel a senior Canadian diplomat based in India. He has been asked to leave the country within the next five days.
The Khalistan movement, which first came into prominence in the 1940s, is outlawed in India because it is considered to be a national security threat by the government, having claimed the life of former PM Indira Gandhi in 1984. Several groups associated with the movement in North America, the UK, the Middle East, Pakistan, and Australia, are listed as "terrorist organizations" under India's Unlawful Activities (Prevention) Act.
You can share this story on social media: