Canada-India trade talks paused
The Comprehensive Economic Partnership Agreement between the nations has been negotiated for more than decade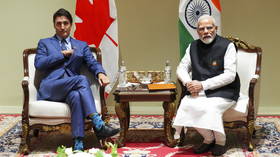 Trade negotiations between India and Canada have frozen due to disagreements on "certain issues," Commerce and Industry Minister Piyush Goyal said on Saturday in an interview with First Post.
Goyal's comments came shortly after Canada postponed a trade mission to India that was to arrive in Mumbai in October.
"We have given the trade dialogue with Canada a pause. We need to make sure that geopolitically and economically we are on the same page… we have had certain issues which are of serious concern and have been highlighted in the bilateral meeting," Goyal said, referring to the talks between Prime Ministers Narendra Modi and Justin Trudeau.
Earlier this week, Indian High Commissioner to Canada Sanjay Kumar Verma indicated that the talks had stalled. At the time, anonymous Indian officials also told reporters that negotiations over a trade deal were on hold due to objections over "political developments in Canada."
In May, Goyal and his Canadian counterpart, Mary Ng, issued a joint statement saying they hoped to boost trade and investment between their two countries by the end of the year.
India and Canada launched negotiations on the Comprehensive Economic Partnership Agreement in 2010. Since then, Canadian and Indian officials have held several stocktaking meetings to discuss the issue, including cross-border trade in goods and services, e-commerce, telecommunications, sanitary and phytosanitary measures, and technical barriers to trade.
The parties resumed talks on an economic partnership agreement in 2022. In May, Goyal visited Canada, with both sides expressing optimism about the prospects of the early signing of a preliminary pact.
The latest pause in the talks comes amid a series of negative developments, including tensions with the Trudeau government over what New Delhi sees as inaction against Khalistan activists, who target Indian diplomats and members of the diaspora in Canada.
The Khalistan movement is a separatist campaign seeking to create a homeland for Sikhs by establishing an ethno‐religious sovereign state in the Punjab region.
For more stories on economy & finance visit RT's business section
You can share this story on social media: