India's Modi turns 73
The prime minister has been praised for his efforts in pushing development initiatives across the country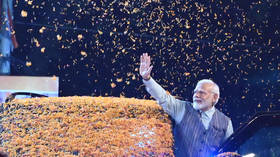 On Sunday, Prime Minister Narendra Modi celebrated his 73rd birthday. He received warm wishes from President Droupadi Murmu and a host of other dignitaries and politicians.
Murmu expressed her hope that Modi, with his foresight and strong leadership, will guide India's development across all sectors.
Home Minister Amit Shah praised Modi as the architect of a new India, commending his establishment of a robust and self-reliant India rooted in the country's rich heritage.
BJP President JP Nadda credited the prime minister with solidifying India's global reputation, promoting the multi-dimensional development of its people, and advancing the nation's universal progress.
Defense Minister Rajnath Singh praised Modi for not only redefining India's identity, but also elevating its stature on the world stage. He wished him good health and a long life, recognizing the prime minister's significant contributions to India's development.
The chief minister of India's most populous state, Uttar Pradesh, Yogi Adityanath, in a column for the Times of India, called Modi "the architect of a better India."
"Great leaders not only dedicate themselves to a larger goal, but also create institutions and systems to achieve that goal," Adityanath said.
Events will be held across India on Sunday in celebration of the prime minister's birthday.
On Sunday, the prime minister's birthday celebration program is packed with events centered on infrastructure development – from the inauguration of the first phase of the India International Convention and Expo Center in New Delhi and the extension of the Delhi Airport express metro line, to the launching of the Vishwakarma Project, which is aimed at helping artisans and craftsmen.
This and other welfare schemes are being launched under the ruling Bharatiya Janata Party's 'Sewa Pakhwara', a fortnight-long outreach across the country. The initiative was launched on Sunday, marking the birthday of the prime minister, and will continue to October 2, the birth anniversary of Mahatma Gandhi.
You can share this story on social media: