Tesla aiming to source more parts from India – minister
Elon Musk's company plans to purchase components worth $1.9 billion, a trade official has said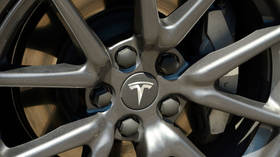 US electric vehicle producer Tesla is aiming to source automotive components worth up to $1.9 billion from India this year, New Delhi's commerce and industry minister, Piyush Goyal, announced on Wednesday.
The American company bought parts worth $1 billion from India last year, the minister revealed while addressing a session of the Automobile Component Manufacturers Association of India.
Tesla CEO Elon Musk pledged significant investment in India following a meeting with Prime Minister Narendra Modi in the US in June. Musk had previously criticized New Delhi's high import taxes and its electric-vehicle policies.
"This is a government that provides equal opportunities to everybody," Goyal told the audience when asked whether India would consider reducing taxes on imported electric cars, as demanded by Tesla. "We will come out with a policy which will be in consultation with all stakeholders."
According to the minister, the Indian government wants more investment and a higher output of electric vehicles in the country in the near future, to benefit from "economies of scale of new technologies."
Musk is bullish about India's potential in relation to sustainable energy and climate tech, including solar power, stationary battery packs, and electric vehicles. The billionaire previously said he plans to bring SpaceX's Starlink satellite internet service to India. Tesla is reportedly in the process of choosing a location for its new factory in the country.
You can share this story on social media: