India may get new name – local media
The country's current name is an 'abuse given to us by the British,' a prominent lawmaker has suggested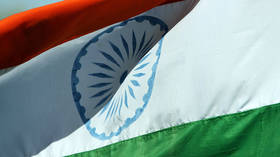 A formal G20 dinner invitation issued by President Droupadi Murmu that refers to her as the "President of Bharat" rather than India has increased speculation on Tuesday that the Asian country could begin the process of changing its name as early as this month, local media has reported.
The invite, which has been widely cicrulated on social media along with the hashtag #PresidentOfBharat, has been issued to various world leaders to compel them to attend a dinner on Saturday at Bharat Mandapam convention center in New Delhi, the venue for the G20 summit on September 9 and 10.
"The word 'India' is an abuse given to us by the British whereas the word 'Bharat' is a symbol of our culture," Harnath Singh Yadav of the Bharatiya Janata Party told the ANI news agency.
The speculation comes as India Today reported on Tuesday that a resolution to officially rename India as Bharat could be tabled by the government at a special parliamentary session scheduled for later this month. However, the agenda for the upcoming session has not yet been made public so it remains unclear if the proposal will be formally introduced.
The current language in its constitution refers to the country as "India, that is Bharat, shall be a union of states…" Some political figures have endorsed switching names, including Mohan Bhagwat of the right-wing nationalist Rashtriya Swayamsevak Sangh (RSS) political party, who has called on citizens to use the updated term.
The name Bharat is derived from Bharata; the name for India in several of the country's languages, which itself comes from Hindu literature. Initially, Bharata referred to only a western region of the Gangetic Valley before it was more broadly used to describe the Indian subcontinent and the region of Greater India. The term Bharata was generally used interchangeably with 'India.'
India is also sometimes known by a third name: Hindustan.
Other advocates for the switch have argued that the rumored constitutional change to a widely adopted, single indigenous name for the Asian country would bolster national pride, reinforce its heritage and distance itself from its history of colonial rule by Great Britain.
Critics, though, such as the Congress party leader Jairam Ramesh, have pushed back against the proposal, the saying that the move would in effect place India's constitution "under assault."
You can share this story on social media: