Modi to visit Jakarta before G20 summit in New Delhi
Indonesia adjusted the schedule of the ASEAN Summit to accommodate the Indian leader's program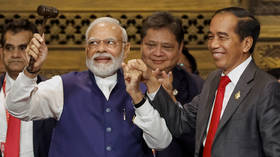 Indian Prime Minister Narendra Modi will travel to Indonesia to attend the 20th ASEAN-India Summit on Thursday, Secretary (East) of the Ministry of External Affairs Saurabh Kumar told the media on Tuesday.
"At the invitation of the president of Indonesia, Prime Minister Narendra Modi will visit Jakarta for the 20th ASEAN-India Summit and the 18th East Asia summit scheduled for September 7," he told a special press conference.
The timing of the ASEAN event was adjusted by Indonesian President Joko Widodo to facilitate Modi's return to India late that evening ahead of the G20 leadership summit in New Delhi.
"We are appreciative of the Indonesian government for making adjustments to the ASEAN meeting schedule… to facilitate PM Modi's program and his early return," Kumar remarked.
India's 'Act East Policy' and 'Indo-Pacific maritime security' will be under focus during the prime minister's visit to Jakarta. Kumar noted the centrality of ASEAN in New Delhi's Act East Policy under Modi. "The summit will review the progress of India-ASEAN relations and chart the future direction of cooperation," he said.
Kumar stated that comprehensive connectivity between India and ASEAN member states – incorporating increased air traffic and a digital payment mechanism through the United Payments Interface – would top the summit's agenda.

"This will also be the first summit since the elevation of India's relationship with the Southeast Asian bloc to a comprehensive strategic partnership last year. The theme of this year's summit is ASEAN Matters: Epicenter of Growth," he added.
ASEAN has emerged as India's second-largest trading bloc after the European Union with $131.5 billion in trade during 2022-23, Kumar said. There has been a steady uptick in trade ties with ASEAN after a free-trade agreement with the bloc was operationalized in 2010.
India officially assumed the G20 presidency from Indonesia in December 2022. Ahead of the summit, which will take place in New Delhi on September 9 and 10, Modi told Moneycontrol that India has used its presidency of the G20 to champion the causes of nations both within and outside the intergovernmental forum.
"Perhaps for the first time in the history of the G20, the troika is with the developing world – Indonesia, India, and Brazil. This troika can amplify the voice of the developing world at a crucial time when there are increased tensions due to global geopolitics," he said. India will hand over the presidency to Brazil on December 1.
You can share this story on social media: