India deploys MiG-29 fighter-jets to guard northern borders
The upgraded aircraft have assumed responsibility for protecting airspace from potential threats such as Pakistan and China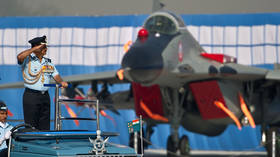 In a move to strengthen defense against potential threats from either Pakistan or China, India has deployed its upgraded, Russian-made MiG-29 fighter jets to Srinagar air base in Jammu and Kashmir, replacing the existing MiG-21 squadron stationed there.
The Tridents squadron, also known as the 'Defender of the North,' has taken over responsibilities from the MiG-21 squadron at the strategically important Srinagar Air Force Station, news agency ANI reported on Saturday.
The MiG-29 jets were relocated to the air base in January of this year and have actively patrolled the Kashmir valley and the Ladakh sector. These aircraft are primed to swiftly respond to any possible airspace violation attempts by China, maintaining a high readiness posture. Following the Galwan clash in 2020, the MiG-29s became the first aircraft to be stationed in the Ladakh sector specifically to counter Chinese threats. They have effectively thwarted many such attempts since then, the report added.
Squadron Leader Vipul Sharma of the Indian Air Force explained, "Srinagar lies in the centre of Kashmir valley and its elevation is higher than plains. It is strategically better to place an aircraft with a higher weight-to-thrust ratio and less response time due to proximity to the border and is equipped with better avionics and long-range missiles." The MiG-29 fulfils all these criteria, he said, making it capable of taking on enemies on two fronts.
Squadron Leader Shivam Rana highlighted the upgraded aircraft's capabilities, saying it can operate at night with night vision goggles, and boasts an extended range due to its air-to-air refueling capacity. He also pointed to the addition of air-to-ground armaments, previously absent, and said the pilots flying these aircraft are meticulously selected by the Indian Air Force.
The MiG-29s offer several advantages over the MiG-21s, which had effectively protected the Kashmir valley for decades. The entire fleet of MiG-21 fighter aircraft was grounded in May to conduct checks and investigate several incidents of crashes over the previous two years, leading to the tragic deaths of five pilots.
Indian media reported last year that New Delhi is aiming to retire, by 2025, all four squadrons of MiG-21s, introduced in the Indian Air Force in the early 1960s, as a part of the long-term modernization drive. It is also looking to start phasing out the three squadrons of MiG-29 fighter jets in the next five years. Currently the Indian Air Force has about 70 MiG-21 jets and around 50 MiG-29 modifications.
You can share this story on social media: