Modi's pragmatic power play: India and the US avoid sharp edges during PM's State visit
Washington has adopted a more realistic approach to New Delhi, seeking cooperation without overt pressure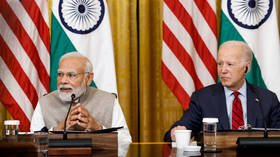 India is being wooed geopolitically and geo-economically by the US under President Biden, not entirely expectedly. Prime Minister Modi was invited to make a State visit to the country with all the ensuing pageantry and also address the joint session of the US Congress, the latter for the second time, which is a very rare honor.
Ties between India and the US have been rising steadily. The US has become India's largest trade partner in goods and services, defense ties have expanded, US investments are growing, and personal relationship ties continue to bind the two societies together. In many ways, India's wide-ranging ties with the US do not have a parallel with any other country.
This is not surprising as the US is the biggest economy in the world, it has a grip on the global financial system, and the US dollar is the world's most important reserve currency. Additionally, it dominates the global financial institutions, applies its laws extraterritorially, uses unilateral sanctions as a weapon, possesses very advanced technologies, and is the world's foremost military power. The US has changed its policies in our region, which was previously heavily tilted towards Pakistan, and has narrowed an area of sharp differences. The India-US nuclear deal in 2005 released America's decades-long pressure on India's strategic nuclear and missile programs.
However, nothing exceptional has happened in the very recent past that would explain the decision to fête Modi and beat the drum of India-US ties. In reality, India has been under relentless attack by the US and Western-based NGOs on human rights and democracy issues. The mainstream US media has promoted a very negative narrative on India on these matters, with the State Department's annual reports also being severe on India regarding minority persecution, the curbs imposed on press freedoms, and the like.
Despite a pushback by India, US leaders have reserved their right to raise such issues with us as "friends," while also recognizing their own deficits. The question remains why, if they accept that their own democracy has deficiencies, they don't attend to removing those first and then point a finger at India? Accepting their own flaws is being used as a diplomatic ploy to put the issue of human rights on the agenda with India to satisfy the so-called progressive elements in the Democratic Party who bait India on democracy and minority rights issues, as part of a larger Western eco-system targeting India.
The Biden administration obviously decided to disregard this negative narrative on India and prioritize its larger geopolitical and geo-economics interests. Biden actually lauded India's democracy in his joint press conference with Modi, and stated that democracy was part of the DNA of both countries. This was remarkable but is unlikely to end the attacks on India by activist organizations and this unpleasant undercurrent in bilateral ties will continue, given the divisions within the US political system.
Even in the defense sphere, the US could have had reason to be disappointed at not being able to clinch a contract for the supply of F-18 aircraft for India's new aircraft carrier. This is apart from India resisting pressure to reduce its "overdependence" on Russian defense equipment and generally dilute defense ties with Moscow. New Delhi's unwillingness to condemn Russia's military intervention in Ukraine in the UN and elsewhere despite overt US pressure while purchasing huge quantities of Russian oil in becoming India's largest source of oil supply, have been issues of reproach by the US strategic community.
On these contentious issues, the Biden administration has now adopted a more realistic position and has ceased to overtly press India to change its stance. US National Security Advisor (NSA) Jack Sullivan has been driving this more pragmatic approach, accepting that India will not reduce its longstanding ties with Russia in short order and that it will be a long haul.
The strategy obviously is to draw India increasingly closer to the US in the expectation that its ties with Russia will begin to loosen as a consequence. In any case, it has never based its policy on establishing a parity in its ties with Russia and the US. Relations with either country will be based not on any artificial balancing but on its national interest and the potential of the ties it has with various important partners.
Russia will always remain a vital partner for India geopolitically and geo-economically for strategic considerations, and as an Asian country at a time when Eurasia is gaining strength in the international balance of power and a more multipolar world is beginning to emerge.
In the joint statement with the US, India confined the language on the Ukraine conflict to its known position, with no mention of Russia, much less condemnation of it. The two sides expressed deep concern over the conflict in Ukraine and its tragic humanitarian consequences, its impact on the global economic system. Concerns, including food, fuel and energy security, and critical supply chains, were addressed with a call to mitigate the consequences of the war, especially in the developing world.
In his address to the US Congress, Modi noted that with the Ukraine conflict, war had returned to Europe, causing great pain in the region, involving major powers and leading to severe consequences globally, with countries in the Global South particularly affected.
The US wooing of India today has many elements. Technology has become a major area of cooperation. The iCET (Initiative for Critical and Emerging Technologies) driven by the NSAs of the two countries, and, under it, the INDUS-X (India-US Defense Acceleration Ecosystem), seeks to combine US and Indian strengths to develop these technologies and establish resilient and trustworthy supply chains, with the China challenge no doubt in mind.
For India, it is less the China angle and more the need to have a partnership with US industry, research and academic institutions on technologies such as R&D on 5G/6G, quantum, high performance computers with source code, open RAN, semiconductors, etc. It needs these technologies for its own development.
China certainly looms large in US calculations in its India policy, even if at the official level, Beijing is not mentioned by name as a threat. The US and China are entering into a more confrontational course, not only over Taiwan, but because of the challenge to US primacy in the global system that a rising China represents. India too has problems with China on its border, with 50,000 troops on each side facing each other in the Himalayas, and the Indian perception that China seeks hegemony in Asia and to curb India's rise.
The Indo-Pacific concept, the Quad, the Malabar exercises by the US, India, Japan and Australia together, are conceived to deter what these four countries perceive as an assertive and expansionist China. Nevertheless, New Delhi keeps its territorial issues with Beijing out of any joint statement with its partners. Its focus remains on maritime security. In the joint statement, both countries, with reference to the Indo-Pacific "expressed concern over coercive actions and rising tensions, and strongly oppose destabilizing or unilateral actions that seek to change the status quo by force" in the South and East China Seas.
In conclusion, Russia-China ties have become much stronger strategically under the pressure of events and considerations of Russia's national interest without any intention to dilute ties with India. As a parallel, India is strengthening ties with the US to serve many ends, including its own development, maintaining its rates of growth, technology modernization and reducing strategic threats to its sovereignty, but excluding any intention to dilute ties with Russia under pressure.
You can share this story on social media: