Emergency flight en route to Russia to replace stranded Indian airliner
A San Francisco-bound plane had made a landing in Magadan after suffering engine problems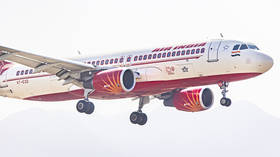 Air India has announced that a replacement aircraft has left Mumbai and is heading to Sokol Airport in Magadan, Russia, where 216 passengers and 16 crew have been stranded since Tuesday after their original flight developed technical problems.
Flight AI-173 was bound for San Francisco from Delhi but was diverted to the remote town on the shores of the Sea of Okhotsk in Russia's Far East following an issue with one of the plane's engines.
It takes over seven and a half hours to reach Magadan from Moscow by air, while the flying time between Delhi and Magadan is a little over nine and a half hours.
"A ferry flight is scheduled to operate to GDX (Magadan) from Mumbai, India (BOM) at 13:00 hours IST on June 7, 2023, subject to necessary regulatory clearances, which would take passengers and crew of AI-173 onward to San Francisco. The ferry flight would be carrying food and other essentials for our passengers," Air India said in a statement.
Airline officials announced that the passengers affected have been housed in makeshift accommodation with the help of local authorities.
Videos that appeared on social media showed the stranded passengers, several of whom are senior citizens, staying at what appeared to be a local school.
One passenger, Gagan, told Indian broadcaster NDTV of the challenging situation because of linguistic barriers and a lack of proper facilities, including the availability of vegetarian food.
However, he was quick to point out that the Russian authorities were "nice," despite the difficulties. The airline also issued a statement about the "unusual circumstance."
"As we do not have any Air India staff based in the remote town of Magadan or in Russia, all ground support being provided to the passengers is the best possible in this unusual circumstance through our round-the-clock liaison with the Consulate General of India in Vladivostok, Ministry of External Affairs (Government of India), local ground handlers, and the Russian authorities," the airline said.
Indian Civil Aviation Minister Jyotiraditya Scindia is closely monitoring the situation, reports stated. The ministry is also in touch with the airline authorities about the stranded passengers and the crew's wellbeing.
The US has said it is following the situation amid strained ties with Russia over the Ukraine conflict. It was not immediately clear how many US citizens are among the stranded passengers.
"I'm not able to confirm how many US citizens were aboard the flight at this time… It was a flight that was bound for the United States. So, it is, of course, likely that there are American citizens on board," US State Department Deputy Spokesperson Vedant Patel told journalists in Washington.
On Monday, Air India CEO Campbell Wilson defended the airline's use of Russian airspace, citing the key role the industry plays in connecting economies, people and cultures.
"We operate according to the ambit of what is provided to us by the nation of India and not all nations agree," Wilson said on a panel at the annual meeting of the International Air Transport Association (IATA).
Russia has blocked US airlines and a number of other foreign carriers from using its airspace, in retaliation for Washington banning Russian flights over the US following the launch of Moscow's military campaign in Ukraine.
However, Air India and some Persian Gulf-based, Chinese and African carriers continue to fly over Russia, making travel times shorter and US rivals more uncompetitive.
You can share this story on social media: