Indian government faces rising protests over sexual assault claims against MP
Farmers have set a June 9 deadline on behalf of athletes demanding action against the embattled Wrestling Federation head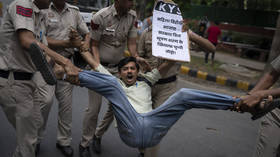 The Indian farmers' organization, Bharatiya Kisan Union (BKU), has issued a fresh ultimatum to the government, demanding that the president of the national wrestling federation, Brij Bhushan Sharan Singh, who is also a member of parliament, be arrested for his alleged involvement in sexual harassment cases. The BKU is supporting a group of wrestlers in their protests against Singh.
In a statement on Friday, BKU spokesman Rakesh Tikait warned that the wrestlers' protests at the Jantar Mantar observatory in New Delhi will intensify from June 9 if the government does not address the grievances against Singh. The accused is a member of the ruling right-wing Bharatiya Janata Party, led by Prime Minister Narendra Modi.
The decision to intensify the unrest was taken after a 'mahapanchayat' (council) of clan-based groups, or 'khaps', in Kurukshetra, Haryana, a state next door to the national capital, New Delhi. Tikait also warned of a nationwide movement to drum up support for the protesting wrestlers amid plans to meet India's federal minister for home affairs, Amit Shah, who is in charge of internal security.
On Friday, Singh, who has denied any wrongdoing, called off a rally in the temple town of Ayodhya in his home state, Uttar Pradesh.
At least seven female wrestlers, including a minor, have accused Singh of misconduct including inappropriate touching, molestation and soliciting "sexual favors" in exchange for professional assistance and support.
The wrestlers filed two separate reports to the Delhi Police in April, one of which was by the minor's father and the other by the six adult wrestlers.
Meanwhile, members of India's 1983 ICC World Cup-winning cricket team piled further pressure on the government on Friday by openly coming out in support of the wrestlers.
The government is yet to take any action against an embattled Singh, who has faced a litany of charges over more than three decades, including attempted murder. The six-term MP has never been convicted in any of the 38 cases.
You can share this story on social media: