Child deaths spark Indian cough syrup checks
The medicines will undergo testing following a WHO alert and the deaths of 80 children in two countries last year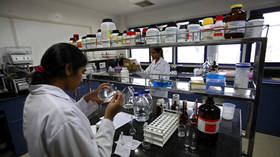 India will instigate mandatory tests in government-run laboratories of cough syrup destined for export, after a spate of child deaths.
The new rule, which comes into effect from June 1, was enacted after 18 children died in Uzbekistan and 66 in The Gambia last year, after they were reportedly administered Indian-made cough syrups. The deaths raised concerns about the safety standards of India's $41 billion pharmaceutical industry.
"The export of cough syrup shall be permitted… subject to export samples being tested and production of certificate of analysis issued by any of the (designated) laboratories with effect from June 1, 2023," the Directorate General of Foreign Trade said in a notice. The circular is seen as the Indian government's effort to verify the quality of cough syrups before they are exported.
The federal Ministry of Health and Family Welfare will partner with state governments and exporters to implement the new policy.
Last October, the World Health Organization (WHO) issued a global alert against cough syrups made by Indian manufacturers after instances of contamination were found in the Marshall Islands and Micronesia, close on the heels of the child deaths in The Gambia and Uzbekistan.
The WHO alert did not specify if anyone had taken ill in the two Pacific nations after using the medicines. However, the global health body said that it had tested samples of Guaifenesin TG syrup, which is manufactured by Punjab-based QP Pharmachem Ltd, and the test showed "unacceptable amounts of diethylene glycol and ethylene glycol." Both of these compounds are toxic and unfit for human consumption.
The WHO has linked four cough syrups made by Maiden Pharmaceuticals to the deaths of 66 children from kidney damage in The Gambia. Though the Indian government and the manufacturer have denied the allegations, the authorities took punitive action against another pharmaceutical company in March.
India revoked the manufacturing license of Marion Biotech after its cough syrups were linked to 18 child deaths in Uzbekistan. The US Food and Drug Administration (FDA) also found last month that the Tamil Nadu-based Global Pharma Healthcare, an eye drop manufacturer, was linked to three deaths and serious infections in the US. The company was accused of violating several safety norms.
India exported cough syrups worth $17.6 billion in 2022-23. India is the largest supplier of generic drugs in the world, and caters to over 50% of global demand for various vaccines, including for Covid-19. The country supplies 40% of all generic drugs imported by the US and 25% of those imported by the UK.
India is ranked third in terms of pharmaceutical production by volume and 14th as far as value is concerned. The country's robust pharmaceutical industry has an estimated 3,000 drug companies and around 10,500 manufacturing units.
You can share this story on social media: