India vows to boost Pacific ties
New Delhi wants the region to be "free, open, and inclusive," Prime Minister Narendra Modi has said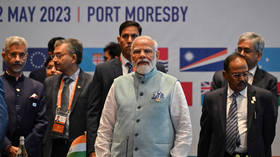 India will continue to assist Pacific countries with their economic and technological development in every way possible, Prime Minister Narendra Modi pledged on Monday.
Speaking at the Forum for India-Pacific Islands Cooperation (FIPIC) in Port Moresby, Papua New Guinea, Modi said that the group had a shared belief in multilateralism. In addition to India, FIPIC includes 14 other regional countries.
"We support a free, open, and inclusive Indo-Pacific. We respect the sovereignty and integrity of all countries," Modi said, vowing that Pacific countries could count on India for humanitarian and developmental aid.
He also stressed that "we are with you in every way" in areas such as digital and space technology, food security, and climate change. "We are ready to share our capabilities and experiences with you without any hesitation," Modi added.
The Pacific region also continues to attract attention from Washington. On Monday, US Secretary of State Antony Blinken signed a defense cooperation agreement with Papua New Guinea, which he said would facilitate joint military training.
Under the new pact, the US will also provide $45 million to improve security cooperation, which, among other things, will be used to purchase personal protective equipment for the Papua New Guinea Defense Force.
Commenting on the development, Chinese Foreign Ministry spokeswoman Mao Ning said that Beijing, which itself has been trying to forge close ties with Pacific countries in recent years, does not object to exchanges between regional actors. However, she warned that "we need to be vigilant about engaging in geopolitical games in the name of cooperation."
After addressing the FIPIC summit, Modi embarked on a three-day visit to Australia, where he was welcomed by members of the country's 700,000-strong Indian diaspora. The leader is also set to meet with his Australian counterpart, Anthony Albanese, to discuss efforts to boost trade and security cooperation.
You can share this story on social media: