US seeks to counter China with Middle East rail project
National Security Advisor Jake Sullivan has held talks with his Saudi, UAE, and Indian counterparts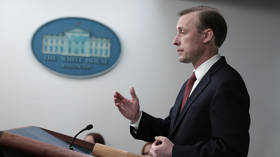 In a first engagement of its kind, US National Security Advisor (NSA) Jake Sullivan met Indian counterpart Ajit Doval as well as Saudi Arabian Crown Prince Mohammed bin Salman and UAE national security official Sheikh Tahnoon bin Zayed Al Nahyan in Jeddah on Sunday.
According to the White House, the four participants discussed how to "advance their shared vision of a more secure and prosperous Middle East region interconnected with India and the world."
New Delhi and Washington, both part of a dialogue group called I2U2, along with Israel and the UAE, are seeking to create a new security alliance with the oil-rich sheikdoms to counter China's growing footprint in the region, such as Beijing's ambitious Belt and Road Initiative (BRI).
The meeting assumes significance in light of the historic Abraham Accords, which aim to reset ties between Israel and its Arab neighbors, and the recent diplomatic breakthrough between Saudi Arabia and Iran, which was brokered by China.
The White House said Sullivan had met Doval separately to "discuss bilateral and regional matters" amid the NSA's plans to "further consult… on the margins of the Quad Summit later this month in Australia."
Before Sunday's talks, Sullivan said "new areas of cooperation between New Delhi and the [Persian] Gulf as well as the US and the rest of the region, fueled in part by the Comprehensive Economic Partnership Agreement signed last year between India and the UAE" would be discussed. "And this can help us carry forward some very tangible initiatives that we think will be unlike anything that we have seen in the region in recent years," he added.
During a speech at the Washington Institute of Near East Policy on May 4, Sullivan outlined the US vision for the Middle East. "This new framework for US engagement in the Middle East is built on five basic elements: partnerships, deterrence, diplomacy and de-escalation, integration, and values," he said.
According to an Axios report before the meeting, the US, Saudi, Emirati and Indian NSAs were expected to discuss "a possible major joint infrastructure project to connect [Persian] Gulf and Arab countries via a network of railways that would also be connected to India via shipping lanes from ports in the region." New Delhi has evinced its interest in the project, according to officials in India's Ministry of External Affairs (MEA).
India is keen to stymie Beijing's ambitions after China brokered the landmark Saudi-Iran pact, which caught New Delhi unawares. India sees a massive opportunity in energy security amid better connectivity that will allow faster movement of crude and other freight, which, in turn, will reduce its high transportation costs in the long term. The move is also viewed as a win-win situation for the 8 million-strong Indian diaspora in the Persian Gulf and one of the major sources of the country's remittance.
A project of this scale could help India's infrastructure ambitions as New Delhi has had similar experience, including in neighboring Sri Lanka. In addition, the initiative is in sync with America's Blue Dot Network infrastructure project and will give India a way to bypass Pakistan, which has barred New Delhi from accessing overland transit routes. On completion, India will have better access to ports in Iran and all six Gulf Cooperation Council (GCC) countries – Saudi Arabia, the UAE, Qatar, Oman, Bahrain, and Kuwait.
Sullivan hinted at the initiative during his May 4 speech. "If you remember nothing else from my speech, remember I2U2, because you will be hearing more about it as we go forward," he said.
The US official said plans are being made to connect South Asia, the Middle East, and the US "in ways that advance our economic technology and diplomacy" amid "some new exciting steps that we are looking forward to undertaking in the months ahead."
The Axios report maintains that though Israel is not part of this initiative, it could join the plan if its ties with Arab nations further normalize in the near future.
You can share this story on social media: