Russian Olympic medalist held after Goa drug cartel bust
An ex-policeman from Russia was the kingpin, according to India's agency for drug law enforcement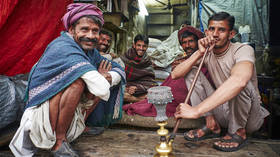 The Narcotics Control Bureau (NCB) — India's nodal agency for drug law enforcement — has busted "an international drug cartel" in the western Indian coastal state of Goa and arrested two Russians – an Olympic medalist and a former policeman – and their Indian accomplice.
Svetlana Varganova (59), who won a silver medal in swimming at the 1980 Moscow Games, and a man identified only as 'Andre', an ex-policeman – whom the NCB identified as the "kingpin" in the racket – have been arrested following the drag haul in India's tiniest state that has acquired the reputation of a narco-tourism destination. The NCB's Goa unit had been on the suspects' trail since the middle of April and has identified the Indian accomplice as 'Akash'. Acting on a tip-off, the drug law enforcement authorities had put the cartel under surveillance at Arambol, a fishing village in northern Goa and a popular destination for Russian tourists.
On April 14, the NCB authorities accosted Varganova at Arambol and drugs were recovered from her possession. Soon, Akash's role came under the scanner and, on April 28, he was arrested at Arambol with drugs and cash. Akash's arrest led to the nabbing of Andre from Mandrem, another fishing village in northern Goa, on the same day.
Andre, who has been living in Goa for a long time, reportedly confessed to the NCB authorities during interrogation that he was growing hydroponic marijuana — a soilless method of cultivating cannabis, a contraband substance in India as per the 1985 Narcotic Drugs and Psychotropic Substances (NDPS) Act, using water as the primary medium — at his residence in Mandrem. Andre possessed several fake documents, including a unique Indian identity document called the Aadhaar card, the authorities added.
Varganova, according to NCB officials, has been living in Goa for several years. She was allegedly supplying drugs to foreign nationals and had a makeshift facility at her place for people to come and consume narcotics.
The authorities have seized 88 LSD blots, 8.8 grams of cocaine, 242.5 grams of charas (cannabis resin), 1.440 kilograms (kg) of hydroponic cannabis, 16.49 grams of hash oil, 410 grams of hash cake, and 2 grams of methamphetamine.
Currencies, including 488,000 Indian rupees, $1,829 and 1,720 Thai baht (a total equivalent of about $7,850), were also seized along with fake identity documents during the anti-drug operation.
Possession of large quantities of drugs in India is punishable by up to 20 years in prison under the 1985 NDPS Act, with the death sentence possible for repeat offenders in some cases.
You can share this story on social media: