Indian government official accuses Kiev of 'assault on Hindu sentiment'
A tweet by the Ukrainian defense ministry featuring a caricature of the goddess Kali has caused widespread anger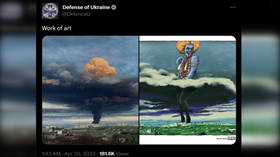 The Ukrainian Defense Ministry has offended Hindu sentiment by tweeting a caricature of the Hindu goddess Kali, Senior Advisor at the Indian Ministry of Information and Broadcasting Kanchan Gupta has said.
The backlash from Gupta and other Indians prompted Kiev to delete the controversial image shortly after it was posted on Sunday.
The tweet in question included a drawing by Ukrainian artist Maksym Palenko, accompanied by a short caption reading "Work of art."
Palenko had reworked an image of an explosion to make it look like the Hindu goddess of ultimate power, time, destruction and change in a pose reminiscent of Marilyn Monroe in the 1955 movie 'The Seven Year Itch'.
The post by the Ukrainian Defense Ministry was an example of "brazen hate speech," Gupta wrote in a tweet. No other government had ever done such a thing regarding India, he added.
A Hindu goddess being "caricatured on a propaganda poster… is an assault on Hindu sentiments around the world," the official insisted.
Kiev's diplomatic advances towards India are all "fakery," and the cartoon shows the "real face" of the Ukrainian authorities, Gupta claimed.
Despite being swiftly removed, the tweet was seen by almost a million people and made headlines in the Indian media. The Times of India newspaper described the cartoon as "offensive" in its report.
A large number of Twitter users also expressed their outrage that their revered goddess Kali had been "mocked."
"Our faith is not a matter of joke," one individual commented, describing the tweet as "shocking."
Another person insisted that "hurting [the] sentiments of 1.4 billion Indians was not okay," accusing the Ukrainian defense ministry of a "blatant display of Hinduphobia."
Indian users also tagged Twitter CEO Elon Musk and Indian Foreign Minister Subrahmanyam Jaishankar, urging them to take action.
India, as a founder of the Non-Aligned Movement, has taken a neutral stance since the outbreak of the conflict between Russia and Ukraine in February 2022. New Delhi has abstained from UN votes on resolutions condemning Moscow's military operation, while resisting Western pressure to implement anti-Russia sanctions.
India has also boosted trade cooperation with Moscow, angering Kiev by becoming one of the top buyers of Russian oil. In December, the Ukrainian foreign minister claimed that New Delhi was benefiting from the "suffering" of his compatriots and therefore needed to do more to help Kiev.
You can share this story on social media: