India cuts internet for millions to catch one man
The manhunt for separatist leader Amritpal Singh continues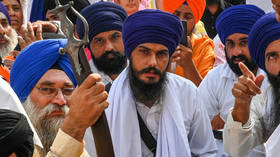 Indian police shut down the internet in the Punjab region as part of an operation to apprehend a separatist leader last week. While the manhunt for separatist leader Amritpal Singh is ongoing, the online restrictions were mostly lifted on Tuesday, according to official reports.
Singh is the leader of the Waris Punjab De organization, which calls for the creation of Khalistan, an independent Sikh state. To arrest him, the authorities installed roadblocks and banned mass gatherings across the whole state of Punjab.
The police also shut down internet access and SMS services to "prevent any incitement to violence and any disturbance of peace and public order." 122 Twitter accounts which the authorities deemed linked to Singh were blocked, according to an official order, as cited by the media.
Singh gained notoriety when he led an armed protest at a police station in Ajnala, a small town in Punjab, in February. Hundreds of his followers stormed the building with guns and swords, demanding the release of Lovepreet 'Toofan' Singh, who they believe was wrongfully accused of a kidnapping. This event triggered the current manhunt , with the police accusing Amritpal Singh and Waris Punjab De of "anti-national activities."
Punjab police chief Sukhchain Singh Gill announced that, during this operation, the authorities arrested 154 people "for disturbing peace and harmony" and 37 more were "taken in preventive custody."
Despite the extensive operation the separatist leader escaped by motorcycle, after changing clothes to avoid identification.
Sikh politicians in India and abroad have condemned the sweeping police measures and targeting of "innocent Sikh" people. The president of the Sikh-centric Shiromani Akali Dal party, Sukhbir Singh Badal, called the manhunt a "reign of repression and terror" aimed at defaming "the most patriotic Sikh community" in a tweet on Monday.
Simranjit Singh Mann, an Indian MP and leader of the similarly-named Shiromani Akali Dal (Amritsar) party, called the police measures "draconian" during a news conference on Monday.
British Sikhs sympathizing with Amritpal Singh gathered to demonstrate around the Indian High Commission complex in London and brandished Khalistan banners on Sunday. Some protesters turned violent and broke the windows of the building and attacked the guards, according to the British police. UK Foreign Secretary James Cleverly condemned the acts of violence against the Indian mission as "unacceptable."
You can share this story on social media: