Indian Navy finalizing supersonic missile deal
The BrahMos weapons system was jointly developed by Russia and India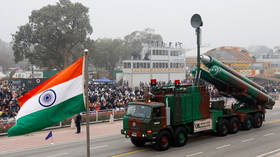 A deal to purchase in excess of 200 extended-range BrahMos supersonic cruise missiles for the Indian Navy is at an "advanced stage", the country's Defense Ministry has said.
The weapons system, which was developed in a joint venture by Russia's NPO Mashinostroyenyia rocket design bureau and the Indian Defense Research and Development Organization, is to be deployed on all frontline warships of the Indian Navy, the ANI news agency reported. The deal is estimated to be in the region of $2.5 billion.
The missiles are also expected to be used in mobile coastal defense battery systems.
"The Indian Navy proposal to acquire more than 200 of these BrahMos supersonic cruise missiles is at an advanced stage and is expected to be cleared by the Defense Ministry soon," ANI quoted a senior defense official as saying.
Final approval of the purchase rests with India's Cabinet Committee on Security, led by Prime Minister Narendra Modi.
Once the deal is official, the weapons will be delivered to India "over a long period," the Times of India reported. It comes after India's Defense Ministry signed a deal last September to acquire 38 BrahMos missiles for its navy.
Continued development of the BrahMos over the past 20 years has seen its strike range increase to more than 250 miles (400km) from approximately 180 miles (290km). Testing is underway to further increase its range.
The missile, which travels at Mach 2.8 – almost three times the speed of sound – offers a precision strike option on high value targets such as warships, or command centers and bunkers on land.
The Indian Navy tested the missile from a ship in the Arabian Sea on March 5 – saying afterwards that doing so boosted the navy's commitment to India's policy of "Aatma Nirbharta", or "self-reliant India", a phrase popularized by Modi's government.
You can share this story on social media: