India will build Israeli ballistic missiles and radars
The two nations signed memoranda to bolster military ties at Asia's biggest air show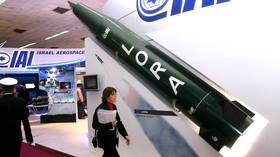 India will manufacture an Israeli strategic missile system domestically. Indian state-run Bharat Electronics Ltd (BEL) and Israel Aerospace Industries (IAI) signed a memorandum of understanding on the sidelines of Aero India 2023, a biennial air show and air defense exhibition held last week in Bengaluru.
Israel's LORA (Long Range Attack) weapons system will be manufactured by BEL as the prime contractor, based on a workshare arrangement with IAI. LORA is a sea-to-ground and ground-to-ground quasi-ballistic missile system consisting of a missile launcher, a command and control system, and a ground/marine support system. It boasts multi-target capabilities and a precision of ten meters circular error.
Various other Israeli hardware was also on display during Aero India 2023, including air defense systems, unmanned aerial systems, aerial and ground precision-guided munitions, electronic warfare systems, land and naval solutions, avionics systems, and more.
At the event, the head of SIBAT (the Israeli Defense Ministry's international cooperation directorate), retired Brigadier General Yair Kulas, acknowledged the 30 years of partnership between Israel and India, saying: "The Israel Ministry of Defense is happy to take part in the Aero India 2023 exhibition. The Israeli-made solutions are just a few examples of the cutting-edge technologies that Israel has to offer in the field of aerial defense."
The two nations also signed a memorandum for cooperation on future supplies and joint production of maritime patrol radar systems for Indian platforms.
India is a lucrative weapons market for Israel, with the additional benefit of not causing as much concern for Israel's top ally, the US, as any military deals West Jerusalem might have with China. According to the SIPRI Arms Transfers Database, a Stockholm-based non-profit institute, India bought unmanned aerial vehicles (UAVs), missiles, and radar systems worth $4.2 billion from Israel between 2001 and 2021. SIPRI data shows that 42.1% of all Israeli arms exports have made their way to India since Narendra Modi became prime minister in 2014. The years between 2015 and 2019 saw a supply spike of 175%.
In particular, the Indian Air Force has acquired Israel's Harop UAVs that act as cruise missiles by exploding into enemy targets and radars. Plans are also afoot to upgrade over half of the around 90 Israeli Heron surveillance UAVs in India's possession at an estimated cost of over $420 million under 'Project Cheetah'.
The defense cooperation between India and Israel stems from a similar threat perception, with New Delhi feeling threatened by Pakistan and China and West Jerusalem by Lebanon's Hezbollah, Syria and Palestinian militants in the West Bank and Gaza Strip. Ties were particularly bolstered during the Indo-Pakistani war over Kargil, Jammu and Kashmir in 1999, when Israel was one of the few countries to provide military assistance to India.
You can share this story on social media: