Moody's warns on capital adequacy of Russian banks
Published time: 12 Oct, 2011 09:32
Edited time: 12 Oct, 2011 13:32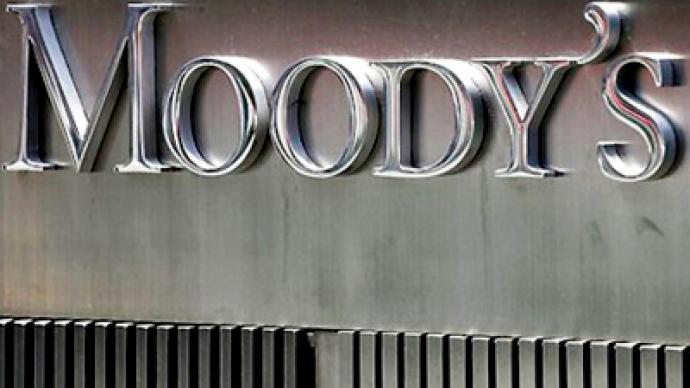 International rating agency, Moody's, is warning of possible ratings downgrades in the Russian banking sector on the back of capital adequacy concerns.
­Moody's said on Tuesday that average capital adequacy across the banking sector could fall below 10%, if current market instability saw banks booking significant losses on assets, as it did in 2008.
Jaroslav Sovgira, vice-president of Moody` s, warned of a potential wave of write-downs.  

"The capital adequacy of Russian banks may fall to 9.4% by mid-2012, if losses on debt securities, including the reduction of quotations and defaults of borrowers, will be more than 1 trillion roubles, share losses amount to about 0.5 trillion roubles and write-offs in the loan portfolios of banks – 1 trillion roubles" 
But Mikahil Sukov, head of the Central Bank's licensing and financial restructuring department, said on Tuesday that he saw no risk of the 10% capital adequacy requirement being breached within Russia's largest banks.

"I do not see any risk of violation of norms that would lead to administrative regulation steps from the Central Bank. Because the owners of these banks have sufficient reserves to support predictable changes to capital."

Sukhov added that he saw the likelihood of a 2008 repeat as unlikely.

"I think the chances of the events we had in 2008 are very low. Capital adequacy did not fall as a result of the crisis, but instead grew because of additional capitalization. Therefore, there are no facts or evidence confirming these calculations by Moody's,"
Andrei Shalimov, Deputy Head of bank Vozrozhdenie, said that the domination of the banking sector by large state owned banks was a key factor.

"Major concentration of credit risk falls on the state-owned banks, which occupy almost two-thirds of the system, and it is obvious that they can be supported by the state, and because of this concentration it is their health and ultimately determines the health of the entire system"