Wall Street disaster plan: Trade without humans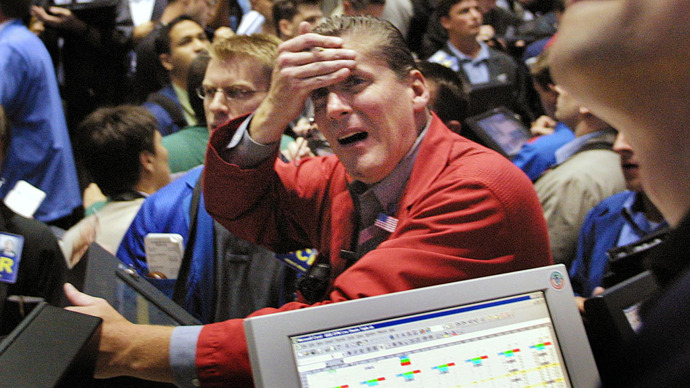 The New York Stock Exchange (NYSE) is preparing contingency plans wherein computers will replace outcry auctioning in case another disaster, such as terrorism or severe weather, forces the closure of trading in downtown Manhattan.
NYSE Euronext is preparing to submit details of the plan, which would permit computers to take securities to market just as human traders have done on Wall Street for the last 221 years, to the US Securities and Exchange Commission, The Wall Street Journal reported on the weekend.
The disaster plan would move trades on the NYSE to a fully-computerized sister system, called Arca, while Wall Street's famed floor traders would be out of harm's way. The transferal to Arca would make it the 'primary market', responsible for setting opening and closing prices for securities, the US business daily reported.
"The NYSE has to look at an extreme scenario in which the exchange would not be able to open or close and doing that in an electronic format is something they have [discussed]," Jonathan Corpina, senior managing partner at NYSE member firm Meridian Equity Partners Inc, told the Wall Street Journal.
Wall Street experienced in October 2012 its first weather-related closure in more than 120 years when Hurricane Sandy swept up the US East Coast (Since 1885, the Wall Street trading floor has been closed 12 days due to weather conditions, according to exchange records). While it is difficult to put a price tag on what these closures cost investors, dozens of companies were forced to postpone earnings reports because of the storm.
Earlier, following the terrorist strikes of September 11, 2001, the NYSE remained closed for four business days amid cleanup efforts. Traders and investors are now hoping to avoid such long-term closures in the future.
The disaster contingency plan, which has reportedly been on the drawing board since 2009, comes as regulators have called into question the markets' ability to respond to crises, the paper reported.
Naturally, a move that sees computers replacing human trading on the NYSE, which represents the last open outcry auction format in the United States, has attracted protest from some members of Wall Street who are skeptical that any new technology can replace the 'human touch'.
"Companies don't list here to have their stocks open and close electronically," Corpina added. "Companies pay a premium to have their stocks listed here, to be opened and closed and traded with human interaction."
Meanwhile, others believe that markets would simply stop trading in the event of a major disaster, since few customers would be thinking about trading shares, according to the report.
You can share this story on social media: