Debt infection treatment: Recipe for US
Published time: 3 Oct, 2012 10:36
Edited time: 3 Oct, 2012 15:00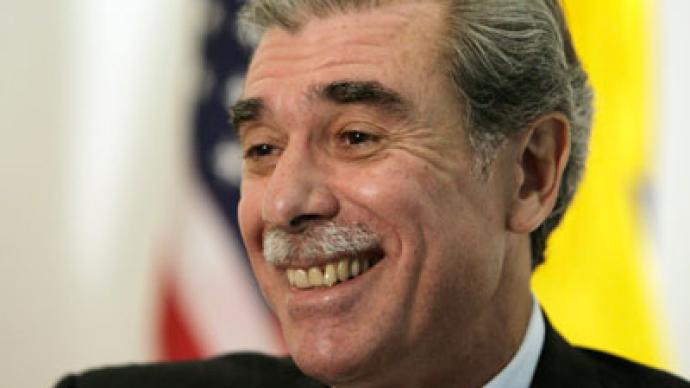 It's necessary to focus first on real growth and some kind of austerity, not continuous rounds of money injections, that's the formula for economic success the former US Cabinet Member Carlos Gutierrez explained to Business RT.
Currently the country has the same debt level as one of the main troublemakers in Europe – Greece, according to Carlos Gutierrez who is currently a Vice Chairman of Citigroup's Institutional Clients Group.
"The US debt is $16tln, more than the economy can stand… and we haven't done anything to cut it," he says. In this situation some kind of austerity measures is absolutely necessary, Gutierrez added.
"It could be "phased austerity", it doesn't necessarily need to be one hit at the same time, but it has to come," he said.
Trying to revive the US economy by a straightforward patching of the budget gaps with massive amounts of money known as Quantitative Easing (QE) has recently become the №1 measure for the country's authorities. First launched in the US in 2008 the latest third round of money printing is set to bring $40bln a month into a bond purchasing program, which will be coupled with an extremely low interest rate policy until at least mid-2015.
"The only reason for their resorting to massive amounts of liquidity is that the fiscal policy has not worked. So, they have to resort to the last resort, which is the Federal Reserve´s balance sheet," as Carlos Gutierrez explained.
In the meantime, what the US economy needs is better productivity. "Today the US grows at about 1.5-2%, which is too low," according to the Citigroup expert.
More active oil and gas exploration, more buoyant foreign trade, coupled with lower deficit, better education and more support to small businesses – that's the expert's recipe to help kick start the economy.
Having found great gas reserves in the US about 2 years ago, very little has been done so far, either for bureaucratic or ecological reasons, says Gutierrez. "…it's too long to get a permit, … environmentalists don't like it…But it's a tremendous thing to be sitting on, and not to do everything possible to exploit it," Gutierrez says.
"It's estimated by 2020 North America, including the US, Mexico, and Canada could be the Saudi Arabia or Russia of natural gas," he added.
Weakening foreign trade has been another pain for the US economy. "The whole world is negotiating 100 agreements, while the US negotiates 1, with the figure remaining the same for 5 years," explained Gutierrez.
As for education, parents in the US should be given a choice and be able to send their kids to a school they like the most. "Today parents have to send their children to the school that's assigned to them."
And support of small business comes as the last but not the least ingredient in Gutierrez' recipe for US economic health.